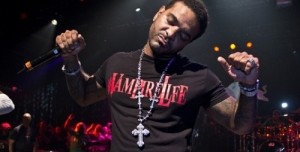 Jim Jones: rapper, entrepeneur. . . .vampire? In the context of a new movie that Jones is writing, producing, directing, and starring in, yes, Jim Jones is a vampire. Maybe.
Back in late August Jones announced that he would be executive producing and starring in Vampire Life: The Movie. While the subject matter of the film hasn't been hashed out entirely, reports indicate that the plot will draw inspiration from Jones's Vampire Life clothing brand. (In case the title wasn't indication enough.) The press release detailing information about the film also noted that the movie will be stylistically similar to 2002's State Property, an action film notable for: A.) its cast of east coast rap royalty, B.) holding the world record for the most times that the "f word" is mentioned per minute in a feature film, C.) having a 0% approval rating on film score aggregation site Rotten Tomatoes or D.) all of the above? If you guessed D, you're right!
All of this points to Vampire Life: The Movie being a surefire so-bad-it's-good movie in the making. Now to be fair, we won't know how good or bad the movie is until it's actually made. But come on.
While we collectively wait with baited breath for this thing to come out, let's take a look back at some of the other questionable attempts at silver screen glory made by some musician. It's time to celebrate some bad art, ya'll.
Remember when Jessica Simpson was ubiquitous? The singer's chart success in the early Aughts coupled with her iconic appearance in the reality show Newlyweds: Nick and Jessica with then hubby Nick Lachey allowed Simpson to transition onto the big screen for a time. While her first starring role in The Dukes of Hazard might not have been a hit with critics, at least the movie was financially successful. That can't be said about the rest of her films. It's tough to choose which of Simpson's films to savage, but Blonde Ambition might be most worthy of closer examination. With a sturdy, boilerplate plot similar to 1988's Working Girl, Simpson stars as a young woman who follows her philandering boyfriend to the Big Apple only to make it on her own. The movie also boasts Luke Wilson and Rachel Leigh Cook in the cast, both of whom are dependable actors. Problem is Jessica Simpson is just incapable of acting herself. It doesn't help  that the movie looks like it was made in the 90s, not in 2007, as the trailer below will show. No wonder it only made $6,422 at the U.S. box office during its run.
Between the runaway success of "Ice Ice Baby" and the subsequent non-charter that was 1994's Mind Blowin', Robert "Vanilla Ice" Van Winkle , had about a two year window in which he was king. He was dating Madonna during this time period, people! Striking while the iron was hot, a film was developed around Van Winkle, a vehicle that would introduce Vanilla Ice, the actor, to the masses who would accept him with the same enthusiasm they accepted Vanilla Ice, the rapper. That movie was Cool As Ice. This video, made by a fan of the Suzuki GSXR 1100 that was featured in the film, also showcases what sank the movie when it first came out. (And also what makes the movie great disposable entertainment today.) The clip from :48 to 1:30 has it all: bad shots, stilted dialogue, and absurd aerial motorcycle maneuvers. By the way, it bombed.
Remember Neil Diamond? The singer-songwriter who racked up eight No. 1 Billboard hits over the course of his career is probably best known to many listeners either as the singer of the defacto theme song for the Boston Red Sox or as for playing himself in 2001's cult comedy Saving Silverman. But the singer flirted with the idea of a career in acting in the late 70s. And why not? Diamond had been a bankable name in adult contemporary for over a decade and adults like movies, right? In 1980, Diamond played the lead role in a remake of The Jazz Singer, the late 20s classic musical talkie. Unfortunately, the movie tanked and critics were quick to scorn Diamond's performance and the film at large. At least they took out the whole "performing in blackface" part from the original for the remake, right? No?!
One wonders why 1992's Freejack hasn't graduate to cult movie status since its release and poor box office performance. In Freejack's world, the super rich have a cadre of mercenaries at their command, mercenaries that utilize time travel to kidnap people from the past just prior to their deaths so said super rich can take over their bodies. The short hand for this worrisome cultural phenomenon is called "bonejacking." Did I mention that Freejack's "future" is the year 2009? Even a cast of big names including Emilio Estevez, Rene Russo, and Anthony Hopkins couldn't save this monstrosity. And let's not forget Rolling Stones vocalist Mick Jagger, who gets second billing as would-be bonejacker Victor Vacendak.
Got any actors making starring turns that they probably shouldn't have? Let us know in the replies!
More like this: