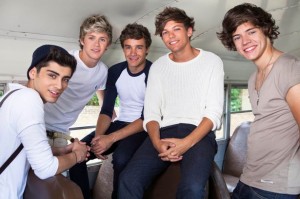 The entertainment industry makes for some strange bedfellows. Just ask pop-documentarian Morgan Spurlock (Super Size Me, The Greatest Move Ever Sold) and UK boy band One Direction ("What Makes You Beautiful," The Fantasies Of Teen Girls Everywhere).
On paper it seems like these two parties barely have any business being in the same room together. Not that reasonable expectations have any bearing on the fact that Spurlock is going to be directing the as yet untitled concert film/documentary for One Direction. And did we mention that it's going to be in 3D?
According to The Guardian UK, the Spurlock directed and co-produced movie will be blend on-stage and behind-the-scenes footage and is slated for release some time next summer. "Morgan is the perfect person to give that access-all-areas, behind-the-scenes look into what it's like to be One Direction today," say fellow producer/One Direction progenitor Simon Cowell.
Despite Spurlock's experience in film, the choice to have him direct is still a bit of a head scratcher. Sure, he has a rich background in not music projects, but this will also be the first 3D film that Spurlock has ever shot. And there's no word on when the documentary of the One Direction concert movie/documentary will inevitably come out.
Check out the video for "Live While We're Young" before Spurlock makes the One Direction boys eat too much McDonald's and they all get fat.
If you like One Direction, then check out OurStage act Sam and Nate.
More like this: