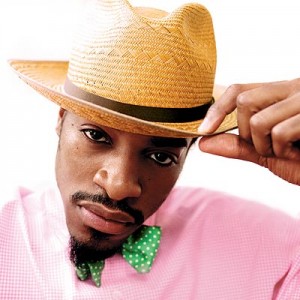 It has been quite a while—6 years in fact—since Andre 3000 has released a full studio album. Outkast's 2006 soundtrack for their movie Idlewild, is the last major release by the hip hop/R&B artist. Since then he has only been on featured tracks or his own sporadically released single tracks. This has raised a lot of questions and rumors among his fans, especially as to whether or not there will be an Outkast reunion.
According to Complex.com, Andre 3000 explained  in a Rolling Stone interview just where he stands currently as an artist, and frankly, he is not sure. He says that "things are kind of up in the air with me, and some days, I feel like yeah, I'll do it. Some days, I feel like, I don't. I don't know the future of music right now. I have no idea what I do. I honestly don't." Andre also mentioned that he feels a judgmental pressure from fans and critics who are watching his every move in the music world "because I don't do it much, they analyze every word and before, you could've had a shitty verse and people just forgot about it. So it's different now."
As for a reunion with Outkast, he simply states that he has tuned out all rumors and expectations because "it makes me mad to read it sometimes," he says, "I don't read the Internet."
Meanwhile, Andre's former Outkast partner Big Boi is set to release his next solo album, coincidentally named Vicious Lies and Dangerous Rumors, on December 11th. Hopefully Andre will get back into the swing of things, and perhaps the two will join forces once again, but as of now, that seems unlikely.
If you like Outkast or Andre 3000, check out OurStage artist MIRK.
More Like This:
The First Look Of Andre 3000 As Jimi Hendrix
Confused and Puzzled¦? " Gorillaz, James Murphy, and Andre 3000 (Updated 02/23/12)
Hip Hop Artists Get A Bad Rap