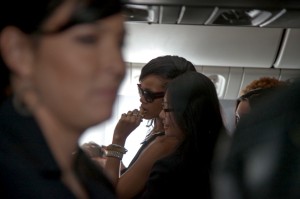 Rihanna's going on tour! And she's bringing 200 of her closest friends. On a plane.
The 777 tour is one of those "themed" events. Seven days. Seven countries. Seven shows. You get it.
But the most notable aspect of the intercontinental mini-tour isn't the obsession with lucky number 7. No, it's the fact that Rihanna will be jetsetting to each show while sharing airspace with hundreds of fans and members of the media. On a Boeing 777, naturally. As such, each leg of the trip is getting reported, photographed, and tweeted to hell and back. And based on the dispatches we've seen online so far, it might be one of the most ratchet events of the year.
Pop music blog Popdust has had some great coverage and photos thanks to their "embedded" reported Julieanne Smolinski. Smolinski's missives range from reports on Bad Girl Riri's perceived scent (great!) to the toiletry kits that everyone received on the flight (very comprehensive).
Speaking of swag and schwag, Rolling Stone writer Jeff Rosenthal noted that Rihanna strolling down the asiles, filling flight attendees cups with Armand de Brignac Brut Gold champagne, better known as that, "gold bottle [with the] Ace of Spades." There were also reports that diamonds were being handed out to each person on the plane, but that just sounds too crazy, even if it would be a great promotional tie-in to her new song "Diamonds."
And for those clamoring for regular, aggregated updates as the tour progresses, check out Gawker writer Max Read's continuing coverage of the "Rihanna Plane."
If you like Rihanna then check out OurStage artist Mica Paris.
More like this: