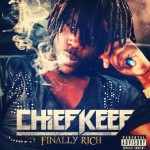 At this point it is probably safe to assume we will have at least one new Chief Keef story a week until the December 18 release of Finally Rich. Last week we were given the artwork and tracklist, as well as the throwaway track "Kobe," and this week we're starting strong with a preview of every song on the album. This is the first time anyone has been able to hear the majority of the record's twelve tracks, and you can hear the sneak preview now by clicking on the video below.
If you need even more Keef to start your morning, click here to stream a non album song that popped up online over the weekend entitled, "They Know."
If you enjoy Chief Keef, be sure to check out OS artist Rook!
More like this:
Chief Keef Releases "Kobe" Video
'Finally Rich' Artwork Premiere