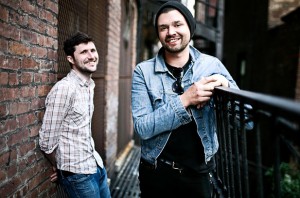 It's hard to believe that Taking Back Sunday has been around for 10 years already, and it's even harder to believe that guitarist and backup vocalist John Nolan wasn't even in the band for about eight of those years. Recently, he and frontman Adam Lazzara performed some acoustic renditions of TBS songs for Baeble Music. In the video for these Baeble Sessions, they also talk about their falling out, what the past decade has been like, and what they have in store.
This is a nice precursor to their upcoming live double album release, which includes both a full acoustic version and a full band version of their breakthrough debut album Tell All Your Friends. Click here to check out the Baeble Sessions video of Lazzara and Nolan performing "Sad Savior," "Your Own Disaster," and "Best Places To Be A Mom."
If you like Taking Back Sunday, then you might also like OurStage's own Seventh Inning Stretch.
More Like This:
Taking Back Sunday To Release 2 Live Versions Of Tell All Your Friends
Exclusive Q and A: Taking Back Sunday Talk Warped Tour Ten Years After ˜Tell All Your Friends'
Living With Lineup Changes