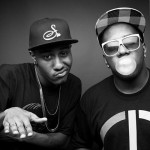 The end of the year should be a time for reflection and joy, but things are bit less cheerful around the OurStage offices this morning because The Cool Kids have decided to call it quits. Consisting of Chuck Inglish and Sir Michael Rocks, the duo has been captivating audiences worldwide since 2007, and I'm pretty sur their single "Gold And A Pager" has played every week since its debut. The Cool Kids spoke with AllHipHop about their retirement plans, saying:
I don't think we're gonna come out again as The Cool Kids. We might come together as something else different, but as The Cool Kids, no, because we're not the same people, we've changed and evolved into two different artists. We can't come back and do the same thing again, you know? We'll probably do something else, but as The Cool Kids and as Shark Week, no, those ideas are done, and we're on to something different now. I wouldn't do that; I think that would be a step backwards to go back and do that right now, so as far as I know for now, no I wouldn't see us doing another Cool Kids project as The Cool Kids.
We'll update you again if this story develops further. Until then, try and heal your broken hip hop loving heart by check out OS artist GoodGrandKidz.