When Jason Aldean released his fourth studio album, My Kinda Party, in 2010, little did he know it would launch a wave of awards, kudos and popularity.
Not that Aldean wasn't already lauded by the country music community. Aldean's self-titled 2005 debut and 2009 album Wide Open had both gone platinum and his 2007 album Relentless was gold when My Kinda Party was released.  "Why," "She's Country" "Big Green Tractor" and "The Truth" were among the hits that made Aldean a hot country star.
Yet My Kinda Party not only brought with it more hits, including two that reached No. 1" "Don't You Wanna Stay" (a duet with Kelly Clarkson) and "Dirt Road Anthem," but an Album of the Year award from the Country Music Association (CMA), and three GRAMMY nominations for Best Country Solo Performance for "Dirt Road Anthem," Best Album for My Kinda Party and Best Performance by a Duo or Group for "Don't You Wanna Stay."
Aldean recently took time out to talk to OurStage about the past year and just why 2012 might be even hotter.
OS: What a year you've had! Let's start with the GRAMMY nominations. How did you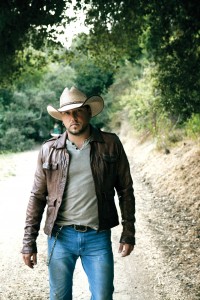 celebrate those?
JA: We performed on the GRAMMY nominations show (on December 7) and then I found out after that show. They came in my dressing room and handed me an envelope and told me I was nominated for three GRAMMYs. That night me and my band, we got on the plane and went back to Nashville and we stopped by the liquor store on the way to the plane. It was a four-hour flight so we had four hours to kind of celebrate. It was a good time. The GRAMMYs are huge for any artist and these were my first nominations for a GRAMMY and so it was pretty exciting.
OS: So what's your celebratory drink of choice?
JA: I prefer any kind of beer. Crown & 7 Up is pretty good, too.
OS: You've said publicly that this is the best twelve months ever. If you could only choose one, what would you say was the main high point?
JA: I think winning CMA Album of the Year [For My Kinda Party]. What that album has meant to my career and done for me over the past year and half or so is amazing. To actually win that award at CMA, my first CMA award, too, being Album of the Year, was a really fitting thing for me. It was a pretty proud moment especially with what this record has done for my career. That [win] just tied it all in to complete the year. It was a pretty special night.
OS: So I watched the show on television and you looked like grace under pressure as they were reading the nominations and then when you accepted the award. What were you thinking and how did you stay so calm?
JA: Well, I haven't been on the receiving end of too many of those announcements! I do sit there and am pretty calm. For whatever reason, [on November 9, 2011] I won the award and it was exciting. My producer [Michael Knox] got to come up there with me and he's the guy who is responsible for finding me in a club and bringing me to Nashville. So it was a really cool moment to be able to share that with him. It was kind of a shocker but it was a really cool thing and probably one thing this year that really stood out for me.
OS: So you've talked about all the high points. What was the lowest point this past year?
JA: The toughest thing in the past year? I don't know. I don't really have any complaints. The toughest part is the first couple years when you're playing 200 shows year and not home a whole  lot. Now, going from 200 shows to now playing seventy shows a year, I'm at home a lot more. For me, this last year allowed me to settle in a bit more"get my life a little more balanced out. I mean when I'm on the road I enjoy it, but I am also wanting to spend time at home, not be running constantly and wear myself out by the end of the year.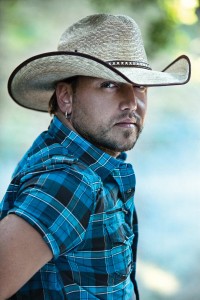 OS: I hear you have a whole new show this year, in the round. How did that all come about?
JA: In the fall we started devising the set. Each year we go and find things to change up a little bit, things to do to make the show better. Now we're in a position where we can kind of dream this stuff up and put it in the motion!
We created a stage that allows us to be in the round. That is cool because the people in the very top row and those in the front of the stage get the same experience. That was a big thing for us, trying to balance it out. We want to make sure that when people buy tickets to see our show,  they get their money's worth. This show is a completely difference experience for me and also a completely different concert experience for our fans. I am excited for people to see it. I don't know of anyone else out there now that is doing this kind of set up. So I think it'll be unique and different, and hopefully people will dig it.
OS: One thing you've always talked about in the past is staying in touch with fans. How do you do that now that you're busier than ever, maybe not with touring but all the extra career pressures?
JA: There are so many avenues now"Facebook, Twitter, it makes it a lot easier. You can constantly kind of let them in what is going on. And, obviously, you do the meets and greets so there are different avenues that we didn't use to have. And for whatever reason, they're interested in everything!
OS: You and I have spoken for several years and you seem as down to earth as ever. How do you keep all the fame and attention from going to your head?
JA: You have got to know that all this stuff is great but it can also go away as quick as it came . You can't get too wrapped up in it. Go out, have fun and enjoy it and be good to the people that got you this far and try to stay humble. It's all great right but it can go away in a heartbeat. You have to keep that in mind, to be aware of that as possible.
OS: So what do you have planned for the GRAMMY performance?
JA: Kelly Clarkson and I are doing our song ["Don't You Wanna Stay?"]. It's obviously a big song for us this year and the GRAMMY's are known for collaborations. It would be a really cool night if we do the song and actually walk away from there with a GRAMMY. That will be some night!
OS: So you always look great at these events. Be honest, do you have a stylist?  And what will you wear to the GRAMMYs?
JA: Yes, there's a guy I work with. I think a secret is to find a guy who knows what you like to wear, knows your style. I've been working with this guy for a long time but it can be hit or miss. He'll come in with things and I say 'I don't think so!' The GRAMMYs, we have been working on [my outfit] for a while because it's a big event. I've never worn a suit to anything before but it might be that!
OS: So when do you plan to start work on a new album?
JA: It's done. It will probably come out, I'd say, fourth quarter.
OS: Tell us about the songs you wrote for it and what to expect.
JA: I didn't write any of the songs on the new record. But they are all songs that work really well for me. I don't want to say the album is more of the same because each record has little surprises, kind of like the Kelly duet. We like to be a little off the wall. But it's gong to be the same hard driving country we're known for like what people that bought [My Kinda Party] and the previous three record heard.
The GRAMMY Awards will be broadcast live by CBA at 8PM ET on February 12.
Find out more about Jason Aldean, including upcoming tour dates, on his Web site.