With Whitney Houston's tragic, untimely death and Adele's big sweep grabbing our near-undivided attention, the 2012 GRAMMY Awards were, in some ways, a two-woman show.
But if any guy came close to upstaging them, it was Chris Brown. And not necessarily in a good way. Brown, who performed two songs on the telecast, did not emerge unscathed from what was foolishly touted as his GRAMMY "comeback""as if he is a supernova among stars, and three years is such an eternity. Some viewers were outraged that he was invited to perform at the ceremony at all, after what he did to his ex, Rihanna, during GRAMMY season three years ago.
The unfortunate irony of Houston's passing on GRAMMY weekend is that, like Rihanna, she had been the victim of domestic abuse by another Brown, her ex-husband Bobby. And the honor of paying tribute to her went to Jennifer Hudson, whose mother, brother and nephew were murdered, allegedly by the estranged husband of Hudson's sister, just a few years ago. If anyone knows that people often hurt the ones they claim to love, she does.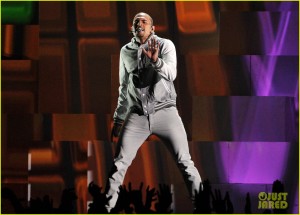 But that one display of good taste doesn't let the National Academy of Recording Arts and Sciences off the hook. Brown's inclusion in the ceremony almost felt like an unintentional f**k you to Houston, to Rihanna, to any woman who has suffered because of domestic abuse.
The big question, though, is this: Has Brown suffered enough? It has, after all, been three years since he pummeled Rihanna in a car. Is it time for us to move on as Brown and NARAS, apparently, both have.
For Brown's many GRAMMY-night detractors (which included singers Miranda Lambert and Michelle Branch as well as actors Wil Wheaton and Eric Stonestreet), it might be hard to move on when Brown has never acknowledged the gravity of the situation in any meaningful way that didn't seem like a public-relations pose. Whether he's onstage, in videos, plugging his music on the morning talk-show circuit, or ranting on Twitter, he never seems sorry enough.
For God's sake, he named his 2011 album, which was his first to hit No. 1 on Billboard's Top 200 album chart, F.A.M.E., an acronym for "forgiving all my enemies" "as if he has anything to forgive. He's cast himself as the misunderstood, injured party while Rihanna, like so many victims of abuse, has been cast by some as a woman who got what she deserved. She was asking for it. And what is she doing even thinking about re-uniting with Brown (which the rumor mill has had her doing at various twists and turns in this saga)?
But what does Rihanna have to answer for? She didn't beat anyone up. She's the one who had to seek medical attention after Brown was through with her, the one whose bloodied face was plastered all over the Internet.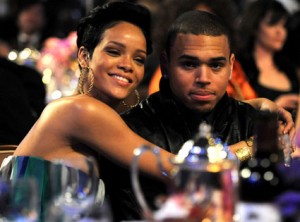 Perhaps behind closed doors, Brown breaks down regularly, sobbing uncontrollably for what he did, for being the brutal antagonist in Rihanna's nightmare. He's made his public apology"and one presumes, a private one to Rihanna"he's been sentenced (receiving the proverbial slap on the wrist) and he's completing his legal requirements (probation and community service).
But the number one thing standing between Brown and public forgiveness might be the fact that nothing he has done in the last three years suggests that what he did to Rihanna he wouldn't do again. Where are his tears? Young mothers have been convicted of murdering their children in the US because they didn't cry enough, and they cried a lot more than he has. From Brown, we've seen more anger than regret, and isn't anger what got him into this situation in the first place?
"FUCK OFF," he tweeted to all the haters on Valentine's Day. HATE ALL U WANT BECUZ I GOT A GRAMMY Now! That's the ultimate FUCK OFF. The tweet was deleted shortly after, but the message had been delivered, loudly and clearly: Apparently, being a commercially successful man is more important to Brown than being a highly evolved one.
"Look at me now, I'm getting paper," he rapped on "Look at Me Now," his 2011 return to the  Top 10 on Billboard's Hot 100 after a three-year absence. So this is what he's come to? When Brown huffs and puffs and sticks his chest out, complaining that pariahs like Charlie Sheen are treated better than he is, and walking out of an interview on Good Morning America and angrily tossing a chair out of a window, what are we supposed to think?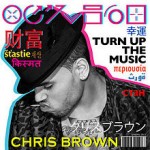 Where are his true confessions (the title of his upcoming fifth album, Fortune, due in March, doesn't suggest that it will offer any), his one good deed that could turn everyone's image of him around. Right now it seems that all he cares about is paper, fame and fortune. As a recording artist, he's even more shallow now than he was singing "Run It!" as a sweet sixteen-year-old.
As a society, we need to see our villains punished, rehabilitated and then redeemed before they are accepted back into society. It has to be a slow, honest process, and it has to be a painful one, too. Chris Brown didn't get back on top overnight. He's still not on top. But he's hardly had to crawl his way back into the music industry's good graces.
A plum spot performing on GRAMMY night and a surprise win for R&B Album of the Year (for F.A.M.E.) would suggest comeback mission accomplished. But it would have been so much more effective"and acceptable"had it followed three years of sincere contrition, humility, compassionate work on behalf of battered women or one great single dedicated to them.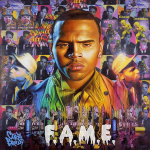 F.A.M.E. was a decent album, and it included a few excellent singles. But is his recent music as indicative of Brown's current psychological state as Rated R was of Rihanna's when she released it in 2009, just months after her brutal altercation with Brown?
If so, Brown may have a long way to go, musically and personally. Let's hope that he eventually digs deeper, changes his ways, shed the sexy-black-guy pose. Following his GRAMMY performance, Twitter was flooded with tweets by foolish women expressing their desire to be beat up by Brown. We get it, he's hot. But is that what it takes to be a man?
Brown needs to finally transition from boy to man. Maybe he could sit with Barbra Walters and shed some real tears. When R&B stars are asked about their latest albums, they often fall back on the old cliche: "It's about who I am now." He needs to record something that shows us that who he is now right now is someone worth knowing and rooting for.
Rihanna, bless her great big heart, has already forgiven him for what he did to her. Maybe then we can, too.