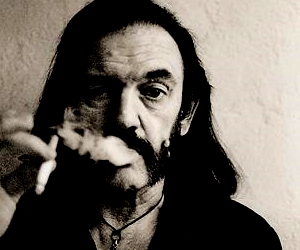 Outraged by the extravagant cost of their new 15 disc box set, Motí¶rhead has told their fans not to waste their money on the overpriced trinket. At $600, the box set's coffin-like case houses each disc with a Motí¶rhead skull emblem fastened to its lid. Open it up and you'll find several singles and eight earlier albums, from their self-titled to No Remorse. In addition, the package contains some posters and a photo book.
According to CNN, frontman Lemmy Kilmister stated, "Unfortunately greed once again rears its yapping head… I would advise against it even for the most rabid completists!"
The band claims, "Motí¶rhead has no control over what's done with these early songs, and don't want fans to think that the band is involved in putting out such a costly box set."
If you're simply too much of die-hard fanatic, the group recently put out a new (reasonably priced) album and DVD titled  "The Wí¶rld Is Yours" and "The Wí¶rld Is Ours – Vol 1 – Everywhere Further Than Everyplace Else" late last year.
Click here to see images of the box set and its outrageous $644 price tag on Amazon.