Whether they're your favorite band or your guilty pleasure, you probably already know that The All-American Rejects have an undeniable ability to get inside your head. From the pounding beat of "Move Along" to the sing-along chorus of "Gives You Hell," AAR have proven time and time again that they have what it takes to write catchy and memorable hit songs.
After keeping quiet for the past two years, the Rejects are chomping at the bit to release their fourth album, Kids In the Street, at the end of March. Guitarist Nick Wheeler spoke with us about what it's like to be back on tour, writing with Tyson Ritter and why he can't wait for you to hear the new record!
OS: You just kicked off your first headlining tour in over two years. How does it feel to be back on the road?
NW: We did! Late 2009, I believe, was our last headlining show. And it's a blast! We're playing some of the longest shows we've ever played because we don't want to get off stage. [laughs] It's been a lot of fun and we've been playing a few new tunes as well. We get out there and it's like we didn't have a break to make a new record…it's just like, second nature. But at the same time, it feels like we haven't done it in so long. I've got a shit-eating grin on my face the whole night.
OS: The band has been pretty quiet for the last few years. What have the four of you been up to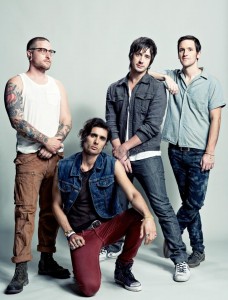 during the break from touring?
NW: We kind of like to disappear when we make a new record; it's not like we're trying to re-invent ourselves or anything. We're not a band who tries to capitalize on any past success by shitting out a new record that's not as good as the previous one and then eventually dying and going away. A lot of our peers have, over the last ten years. We like to go home and come to a screeching halt, and just see where our heads are at, figure out what we want to say and what we want to do. Sometimes it's an easy transition and sometimes it's not. On this one, it wasn't so much, because Tyson [Ritter, lead vocalist] and I had moved to Los Angeles. He kind of got mixed in with [excessive drinking] there. I kind of stayed quiet and stayed to myself and was there when he needed rescuing so we could slow down and write some new music. We spent about a year writing Kids In the Street and then another year recording it. It's been quite a process. But, even though some of these songs are two years old, nobody's heard them yet and we can't fucking wait to get them out there! [laughs]
OS: You co-wrote Kids in the Street with Tyson in remote locations in Maine and Colorado. How does seclusion help you with the writing process?
NW: No distractions, you know? Sometimes there's not even cell phone service, so that's even better. [laughs] It sounds a little Deliverance, but it really helps us focus on the task at hand. You have to live, you have to experience things, in order to write…but at the same time, you have to be able to focus and get those thoughts down, whether it be on paper or in a demo. These writing trips really helped us in that way. We went to the Sequoia Grove National Forest, where we wrote "Beekeeper's Daughter," our first single. We named it after the bottle of honey in the cabinet…[laughs] We were just weirdos. But a lot of great songs came out of those trips. That same trip, a song called "Bleed Into Your Mind," which is really a departure for us, musically, that came out of that trip. Like you said, Maine was a great one too. We wrote the title track, "Kids In the Street," and another tune "Heartbeat Slowing Down," which I think is the best song on the record. It's a pretty powerful ballad, but it's a vibe that we've never captured before. The whole song is based around this drum loop that we tweaked and fucked up. We actually had [British pop artist] Mika, who the producer, Greg Wells, had previously worked with, come in and sound like a little British boys choir on it…because he was in a British boys' choir. [laughs]
OS: The lyrics on the new album speak to the personal growth of the band. Do you feel as though the band has matured musically on this record, as well?
NW: Oh, absolutely. Just the time that we went away, and spent just challenging ourselves…that, along with producer Greg Wells, really pushed us to be more spontaneous and not such perfectionists. In the past, we've been very calculated, even to the point where some of the music has been written out by my own hand [laughs].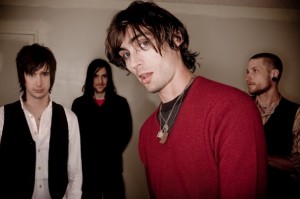 This time, it was a much more rock 'n' roll approach. Every day, we looked forward to going into the studio and just seeing what would happen. There were times where there wasn't a guitar solo written and I went in there and made everybody leave the room because I can't fucking do that with people breathing down my neck [laughs]. And I just did a couple of different things and I'd be like, "Alright, that one's cool, now let me try to get it right." And they were like, "No, it's perfect. There's a mistake in it, but it's beautiful in it's imperfections." So I'd be like, "Alright, cool! Moving on!" [laughs] We never try to reinvent ourselves or be something that we're not. We just try to do something different, something that inspires us and something that excites us, creatively. And then we try to figure out how to play it on the road. This one's been a challenge, but we actually figured out how to play the entire record live, which we've never done before. Everybody's playing a bit of keyboards, everybody's singing a lot, but it's a lot of fun.
OS: Since you've mentioned him a few times already, let's talk about your GRAMMY-nominated producer Greg Wells (Adele, Katy Perry). Why did you decide to work with him? How did he impact the overall sound of the record?
NW: We're not a band who works with the same producer twice, I've found out. There are some bands where the producer becomes, in our case, the fifth member. They work with them, write with them, whatever, throughout their career. Greg is probably the closest version of that to us. He was definitely more of an extension of the band than a judge and jury…he was that too, that's what you pay a producer to do"mediate and veto bad ideas and let us chase what could potentially be a great idea. At the same time, he was kind of along for the ride and just up for the adventure. That was a lot of fun. We planned to work with a couple different producers on this record, but when we got in the studio with Greg, we decided to switch gears and just stay the course with him. It felt so right, and to interrupt it in the middle and go work with somebody else…it was just like, "this isn't a hip hop record [laughs], this is a rock 'n' roll band. We set out to make a record. We're not going to come out of this room, with this producer, until this record's done." It was a great experience, he's a great dude and probably one of the only producers that we're going to make a point to stay in contact with. Aside from working with him, like I said, he was just a great dude and a lot of fun to be around.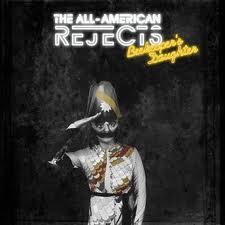 OS: You've been encouraging your fans to submit some of their favorite forms of self-expression and reflection, with plans to reward your favorites with invites to a special meet-and-greet with you. What have been some of the most interesting submissions so far?
NW: I haven't seen any yet! It's actually not just a meet-and-greet thing, we're going to rent out a gallery and put on a show, showcase some of these pictures, videos, pieces of art that these kids contribute to our "Burn Both Ends" Tumblr. We hope it's going to be a really cool thing. It's still pretty new, so we're going to try to get this snowballing and just see what happens!
OS: You recently shot a video for "Beekeeper's Daughter," which Tyson described as your "most ambitious music video to date." What makes the video so ambitious and what was the shoot like?
NW: It was shot in Hill Valley…if you're a Back to the Future fan, you know exactly what I'm talking about. There's actually a scene taped on the clock tower steps…so that was awesome. We got to geek out a little bit. We are very ambitious when we go in to make a video. We spend a lot of money, usually, with the best ones, entrust a director who has an idea and just wants to see it out. We just have to trust them. [The video for] "Move Along" was that case, [director] Marc Webb had the idea to do that quick editing. With this one, it's kind of the same thing. We had a very big idea from a director [who] came to us and it sounded amazing…like I said, we spent a lot of freaking money, and involved a lot of people and a lot of cool things in this video.
OS: In May, you'll be returning to New Jersey for the Bamboozle Festival. What part of that weekend are you looking forward to most?
NW: I was a little bummed we're not on Bon Jovi day! [laughs] But I believe we are on the Jimmy Eat World/Foo Fighters day, which is also pretty fucking cool. Now I guess Jimmy Eat World are our peers, but we grew up listening to that band and we love those guys. I'm glad The Bamboozle is doing the "return to the roots" kind of thing…where it's East Coast only, not a traveling thing, it's just one big, fucking weekend. Sounds like they're pulling out all the stops for this one!
Check out the video for "Beekeeper's Daughter" below and don't miss The All-American Rejects on Saturday, May 19th at the Bamboozle Festival in Asbury Park, NJ!