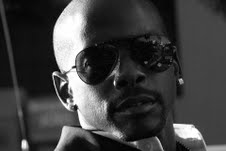 The eyes are more skeptical, but the eyes are looking.
For Keith Robinson, fame is a gift and a curse.  For most actors, a big role in an even bigger film is the Holy Grail.  In 2005, Robinson co-starred in the mega musical, Dreamgirls alongside then newbie, Jennifer Hudson, Beyoncé, Jamie Foxx and Eddie Murphy. Hudson scored a Best Supporting Actress win at the Oscars for her portrayal of Effie White and Keith delivered a powerful performance as her piano-playing brother, C.C.. Since then, he has starred in a string of successful films like Dear John and This Christmas.
People ask me if I was lip-synching in Dreamgirls, he says, unable to mask the insult such a question undoubtedly hurls.  It's not that I'm frustrated, just more eager to establish myself in this realm, he says.  When I step onstage, half the people in the audience know I'm about to sing, and half have no idea that I can.  It's a blessing to have two platforms, but it's just ironic, he says. I'm a singer.  I've always been a singer.  Acting was an accident. I came to LA for music.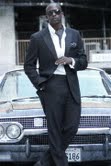 In fact, his first acting class was just an attempt to improve his stage presence after he and his group, State of Mind was signed to Motown Records. An instructor took notice of the natural talent and suggested he audition for a little show called Mighty Morphin Power Rangers. Keith was cast as the Green Power Ranger, and was instantly thrown into the other business.  Eventually, Keith's acting became a priority, and he landed roles in major films like Fat Albert and eventually, Dreamgirls.
Now, the singer-turned-actor faces an ironic fete; convincing the world that he's an authentic vocalist.  I still feel like a starving artist, he says.  My mindset hasn't changed at all in that way.  It's about proving to people that don't know me that this music thing is not a gimmick.  They see me one way, and it's hard for [the public] to see me in another way.
His latest film, My Dysfunctional Friends, hits select AMC theatres on Friday and stars Megan Good, Terrell Owens, Stacy Dash and Persia White.  Aside from starring in the indie film, Keith oversaw all the music in the movie through his scoring company, TKtitle. The film's title track, Same Rules will serve as the first single for his full-length project, due out later this year.
I'm excited and relieved. I'm anxious to see how it is received, he admits.  If the single is any indication, Keith's got nothing to worry about.  The smooth crooning of a bonafide hottie isn't hard to hear. And the fact that Robinson's R&B roots and writing style are a throwback of sorts is a refreshing retreat from the status quo.
I think there's a timeless quality to my music, he says.  I came up on the cusp of real singing and auto-tune.  I bridge the gap. Heavily influenced by classic crooners like Stevie Wonder, Marvin Gaye, Sade and Babyface, Keith hopes to create songs people can truly connect to.  I'm a real music fan, he says.  Music is supposed to be sincere and heartfelt.  It should evoke emotion and make people relate to where it's coming from, and what they're going through.  It becomes the soundtrack to people's lives.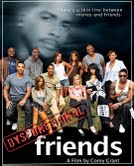 The yet-to-be titled project is pointed toward relationships and how men and women relate to each other.  It's my point of view as a man.  An honest explanation of the vulnerability and strength that comes along with an earnest search for love.
Like all aspiring artists, he has at times been discouraged by the many pitfalls of the industry. Being determined to release his first full-length project himself has got Keith feeling the same pressure that so many up and comers experience.
The grind is constant, tedious and time-consuming.  To truly be an independent artist, you still have to be dependent on someone for money.  The reality is it costs a lot of money to break an artist.
According to Keith, his next single, Just Kissed My Baby, totally defines who he is  as an artist.  As far as sound goes, I love the heavy 808s, strings and a beautiful chorus, he says.
I love performing and I love recording, he says.   It's the funnest part of the process.  I love incorporating live instruments like strings, drums and piano.  Soul is the through line.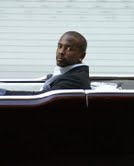 Next up for Keith will be the release of his movie, Divorce Invitation, out this fall.  In the meantime, Keith will be releasing new material, touring, and hopes to direct a film in the future.  Despite the occasional frustrations that come from the crossover it doesn't seem he has any plans of slowing down his double-life.
I'm an actor and a singer.  I do it every day. Love me or leave me.
I'm gonna go with love.