Last night, The Voice brought us back to the battleground for the next round of intense and emotional vocal warfare.
The night kicked off with a battle as epic as last week's final matchup between Anthony Evans, Jr. and Jesse Campbell. Sera Hill and Geoff McBride both brought their soulful and powerful voices to the stage for Aretha Franklin's "Chain of Fools," in a battle that either one could have walked away from victorious. Sera's vocal acrobatics were a perfect compliment to Geoff's unbelievable tenor, but she ultimately took home the win.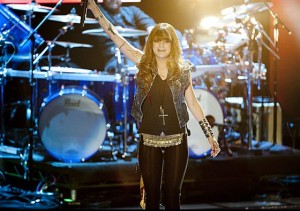 The next jaw-dropping battle came between seasoned rocker Juliet Simms and androgynous folk singer Sarah Golden. Juliet, whose audition left the coaches fighting over her, seemed to have the upper hand from the beginning, as the pair were assigned a song by rock legend Rod Stewart. Sarah's smooth and rustic tone made her a sharp contrast to Juliet's dynamic, raspy growl, but"to paraphrase Christina Aguilera"Juliet was the "no-brainer" winner.
Indie rockers Lindsey Pavao and Lee Koch performed a sleepy and "creepy" (Adam Levine's words, not ours) version of Nirvana's "Heart-Shaped Box." Their performance really didn't give us any reason to look up from writing this post…but Blake Shelton's comment about never having hearing the original, did. No, he wasn't kidding. Kurt is rolling in his grave…
Thankfully, the night ended on a literal high note, with Jamar Rodgers taking on good friend Jamie Lono on Foreigner's "I Wanna Know What Love Is." Jamie's nerves got the best of him and caused his voice to crack, but Jamar picked up the slack and murdered the song on his own.
Next week, we're promised "a shocking battle round first." We can't wait to see what goes down!