You might recall that towards the end of 2011 Elvis Costello made news by issuing a statement on his Web site discouraging fans from purchasing the deluxe box set version of his live recording The Return of the Spectacular Singing Songbook. It turns out Elvis had tried unsuccessfully to get the label to lower the price for the limited-edition set, which was going for well over $200 (and is currently selling for more than $300). Sure, it included all sorts of schmancy extras, like a vinyl EP, hardcover book, etc., but Costello nevertheless opined that "the price appears to be either a misprint or a satire," and encouraged people to buy a Louis Armstrong box instead for less money. At the time, he also informed fans that before too long, all the elements of the box would be available individually for a less usurious fee. That day of retail redemption for Elvis and his admirers comes on April 3 with the release of Spinning Songbook in its proletariat-friendly format"the live CD and DVD are available individually or together, and even the two-disc package goes for about 10 percent (at most) of the box set's cost.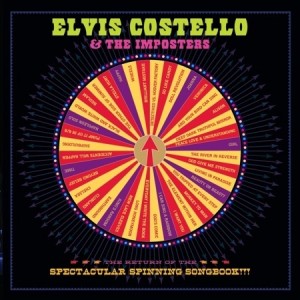 Costello did his first Spinning Wheel tour back in 1986, bringing a big, roulette-style wheel onstage, emblazoned with the names of numerous songs from his back catalog. Audience members where invited up to give the wheel a turn, and Costello was obliged to perform whichever song the arrow landed on. Needless to say, the gimmick was a big fan favorite, and he revived the idea in 2011, capturing a couple of shows for posterity in May at The Wiltern in Los Angeles for the live release in question. Seeing as how it's finally time for the common man to sidle up to the Spinning Songbook album, it seems like the right moment to deconstruct the track list, examining the origins of each one of the sixteen songs from The Wiltern sets that ended up on the album.
1. "I Hope You're Happy Now"
One of the best and most vitriolic songs from 1986's Blood & Chocolate, this is Elvis at his teeth-gnashing, vengeful best. Nobody plays the bitter cuckold better than Costello, and here he takes a long, critical look at both his former flame and her new man and essentially informs them that they deserve each other, his words alternating between thinly veiled irony and outright intimations of rage like "If I knew then what I know now, I'd have never loved you anyhow."
2. "Heart of the City"
This track finds Elvis covering his friend, mentor and sometime producer Nick Lowe, who has helmed many of EC's best early albums. The b-side of Lowe's 1976 solo debut single "So It Goes" and the first release by renowned new wave label Stiff Records, it's an attitude-laden bit of power pop that coincided perfectly with the arrival of punk and featured drumming by The Rumour's Steve Goulding, who was soon to record the groundbreaking reggae-rocker "Watching the Detectives" with Costello for the latter's first album.
3. "Mystery Dance"
One of the first Costello songs many folks ever heard, this remains among the most popular songs from his 1977 debut album, My Aim Is True. It's a charging rocker full of breakneck blues riffs and and punky attitude, and it's one the best rock & roll evocations of the great mystery sex holds for inexperienced youngsters.
4. "Radio Radio"
Only Elvis could cut a song excoriating radio programmers as "such a lot of fools trying to anesthetize the way that you feel" and get it into regular rotation on American radio. The song, which missed the deadline for the first UK edition of 1978's This Year's Model, was appended for the US release. Fueling his Angry Young Man image, Costello played the tune on SNL at the time, only after starting with the expected "Less Than Zero" and dramatically redirecting the band towards the unscheduled selection.
5. "Everyday I Write the Book"
This is in that handful of songs that even people who don't especially like or even know Elvis's work will sing along to whenever it pops up. The sleek soul moves and lyrical blend of romance and eloquence are essentially Costello's attempt at being Smokey Robinson. Even if he doesn't get there, you've got to give it up for lines like "Even in a perfect world where everyone was equal/I would still own the film rights and be working on the sequel."
6. "God Give Me Strength"
One of the signature songs off Painted From Memory, Elvis's 1998 album with Burt Bacharach, this elegant ballad was originally penned by Elvis and Burt for the '96 film Grace of My Heart, loosely based on the career of Carole King and sung in the movie by star Ileana Douglas. Still, you'd be forgiven for preferring the author's delivery to Ileana's.
7. "Watching the Detectives"
We already talked about this one in the context of "Heart of the City," but regardless, it's one of the first and still one of the most effective attempts by white rockers "much less British ones"to assimilate straight-up reggae grooves. Even in the twenty-first century, when The Police were guests on Elvis's music-and-chat show, Spectacle, drummer Stewart Copeland called out the importance of those dreadlocky drum fills, though it was up to EC to inform him that the drummer in question was Steve Goulding.
8. "Tear Off Your Own Head (It's a Doll Revolution)"
This is admittedly one of the weaker songs from 2002's When I Was Cruel, though that record remains among Costello's finest latter-day releases. Frankly, almost any other song from that album would have been preferable, but that's part of the Spinning Wheel deal, you turn that wheel and you take your chances.
9. "Out of Time"
Conversely, this is the sort of thing people turn up for a Spinning Wheel show hoping to hear"a total surprise. Some ultra-obsessive type may well prove otherwise, but as far as we know, Costello had never performed this 1966 Rolling Stones classic before the Wiltern stint, and he had certainly never recorded it before.
10. "I Want You"
Returning to the edgy, itchy, enjoyably unwholesome environs of Blood & Chocolate, "I Want You" may come after "I Hope You're Happy Now" in the original album's track order, but it clearly comes first in terms of the emotional arc, with the narrator in the throes of utter obsession with his elusive objet d'amour. Sadly, we know what he doesn't know"that soon he'll be the man lambasting his laissez-faire lover on "I Hope You're Happy Now."
11. "Stella Hurt"
Longtime Grateful Dead fan Costello, who once cut his own version of "Ship of Fools" for a GD tribute album, was quoted enthusing over The Dead's "Stella Blue," but Elvis's own "Stella" is that poignant ballad's polar opposite"a churning, gritty garage rocker that's one of the more memorable moments from one of his more unremarkable albums, 2008's Momofuku.
12. "All Grown Up"
Speaking of unremarkable albums, 1991's overripe Mighty Like a Rose is arguably the Costello discography's nadir, but it's a testament to the man's talent that even this largely unlistenable album has it's share of bright spots, and the tender tune "All Grown Up" isn't half bad, especially outside its original context.
13. "Lipstick Vogue"
A reminder of Elvis's beginnings as an iconoclastic new wave wonder, "Lipstick Vogue" bounded out of EC's milestone album This Year's Model at a breathless pace, egged on in no small part by The Attractions, whose output in this era offered one of the most convincing arguments you could find in favor of amphetamine consumption.
14. "Man Out of Time"
This is one of the most acclaimed tunes from 1982's Imperial Bedroom, an album traditionally hailed most heartily by "real" Costello fans. While the ballad's imagery is as oblique as anything else Elvis was penning in those days, the mood of melancholy that's at the heart of the song is inescapable.
15. "National Ransom"
Time to get topical, and to remind folks that Elvis put out a new album in 2010. That record's title track makes a statement about the contemporary economic crisis without wedding itself to a particular era with any overtly time-sensitive references, though some other tracks on the album utilize Depression-era iconography in the same spirit.
16. "(What's So Funny 'Bout) Peace, Love and Understanding"
Another Nick Lowe tune to close things out, this remains one of Costello's most widely loved songs. The new wave era's own anthem of brotherhood, it was originally cut by Lowe's pub-rock band Brinsley Schwarz in 1974, but it was given a new lease on life with its inclusion on Elvis's 1979 album Armed Forces. Everybody join hands and sing along…