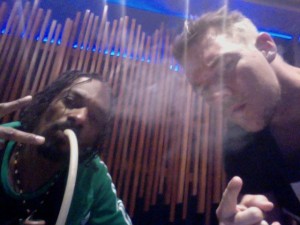 Diplo is quickly emerging as the go-to producer in the industry by making a name for himself as a constant chameleon, and more importantly, a tastemaker. He discovered MIA, he helped bring Azelia Banks to popularity just last week, his label Mad Decent was the first to champion the growing moombahton sound (which could easily become the next dubstep), and he just recently revealed on Facebook that he and Snoop Dogg are working on an album – and, according to MTV, a reggae album, at that. Diplo is no stranger to the reggae style, as his side project Major Lazer incorporates dancehall and dub elements into American-style EDM. And while it may come as a surprise to some that Snoop, the everlasting hip-hop icon has chosen such a drastically different style of music, his newfound Soundclound explosion hints at his eagerness to explore new genres.
Diplo opened up to MTV:
"Snoop Dogg is an icon, man; he's bigger than the music…What we're doing is a reggae record. It's like Snoop Dogg and Major Lazer together. It's all reggae and he's singing and he's doing a f—ing awesome job and I never knew it, but he had his heart in every song…We're going to get back into the production of it next month, and I'm really proud of that record. It's the first record I've ever executive-produced and his crew is amazing."
We really have no clue what to expect from this album, but with the talent and creativity the two of these guys bring to the table, there's no doubt we'll give it a couple of listens. Heck, we might need to give it more than a couple just to cut through all the haze that is bound to be associated with this heavy-lidded album.