Trisha Yearwood definitely doesn't want to be thought of as "that cooking woman." Sure, she wrote two cookbooks that made it to No 1 on the New York Times' Bestseller List of Advice, How-To and Miscellaneous, but music is her true passion. That's not surprising for this star whose accolades include three GRAMMY Awards, two Academy of Country Music Awards, three Country Music Association honors and had nineteen Top 10 singles.
It might seem odd, then, that she has agreed to star in a cooking show titled Trisha's Southern Kitchen that debuts at 10:30 a.m. ET/PT on Saturday, April 14 on the Food Network.
Of course, the program is something of a natural extension of her two successful cookbooks, Georgia Cooking in an Oklahoma Kitchen" the 2008 cookbook which references her Georgia roots and the state where she and husband Garth Brooks and their family make their home"and Cooking for Family and Friends released in 2010. But it was the death of her mother, Gwen Yearwood, last October that convinced the much-loved country singer to keep her music on the back burner for just a bit longer and do the show.
For me, cooking is very connected to my family and friends, said Yearwood.   Every recipe on the show carries wonderful memories with my loved ones…I really see this as a tribute to my mom."
The six-episodes of the show were all filmed in a Nashville home and Yearwood has special guests including family and some of her dearest friends.
Just before the show debuted, Yearwood talked to OurStage about what viewers can expect, her mother and just why the daughters she shares with husband Garth Brooks likely won't be on the show.
OS: You have been offered cooking shows in the past. Why didn't you do them?
TY: I was just not interested. I fell into the cookbook [writing] and enjoyed doing it, but never thought I'd continue. I don't want to be known as always standing behind a cup of sugar. When this came up, I thought if we could make the show like the books, like the story about families, if I could make it a show with sister and uncle and friends it could work. We did that and it was so much fun!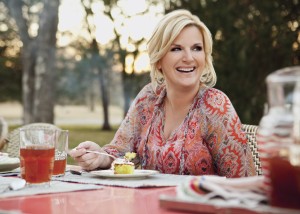 OS: What made you decide to do the show now?
TY: This is a tribute to my mom who recently passed away. I miss her so much and have thought about her recipes and how she just knew, automatically, [how to cook] so many things. My mom could do it all even when her illness really redefined her diet. She eliminated meat and dairy and had a plant-based diet. My sister and I lived with her [during her illness] and cooked with her and we took [the recipes] in a different direction. We still made the foods we loved, but they were much healthier versions. But they tasted the same; that was important to my mom.
This is another piece of our history, like the cookbooks. And it also shows how we will use [what we learned from her] and take it down another path.
OS: What kind of role has food played in your life. Do you remember a particularly interesting time?
TY: When I went away to college, I would come home and fall back into eating comfort food. I think I gained ten pounds! Then my dad became a diabetic and so when I went home on weekends and expected a feast, it wasn't there. It is funny, how we get into those patterns. The bottom line, weight and health are about calories in and calories out. I like to eat certain things, like fried chicken. I don't eat it every day"even though I may LOOK like I do! But really, you can eat some [higher calorie] foods but not every day. On the program, I'll show how my mom fried chicken that was the best on the planet and how she turned it into a healthy alternative that tastes the same (as fuller fat versions]. We have that information in the show because pepole want to know. And we want to send the message that you can adapt a recipe with which you've [eaten] your whole life and it can taste the same even though it's healthier.
OS: So that way of looking for healthy ways to cook was something your mom started in your family?
TY: She had done a huge amount of research on nutrition and that [resulting diet] rubbed off on my sister and me. If you can eat healthier and make it to your 70s and not have diabetes or other health issues, why wouldn't you move in that direction? You can still make food taste good!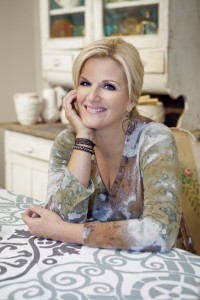 OS: Are your three daughters into food?
TY: One of our girls, the youngest, is a good cook. She's always asking "How do we make things healthier?" Our oldest is in college, so when she gets home the attitude is pretty much if you are cooking, I am excited!
OS: Do you plan to have them on the show?
TY: I don't think so. Garth is very protective of them, he has been since the day [each of them was] born. As crazy as it may sound, we want them to play sports, go to school, we want them to do that as long as they can. We want them to have normal lives. Garth may come on. He's not shying away from it. But he's chosen to be in the public eye.
OS: So what recipe are you excited to share?
TY: I want to share all of them. One is chicken pot pie that I make for my family. Everybody loves it! [My mom] knew how to do it just right, keep the flavor in. She had all those answers. She knew if something wasn't rising, what to do. She knew all of these tricks about how to leave out the butter and use plant-based margarine and still have it takes just like the [original] version. I am excited and inspired by her and all the interesting ways she did things. I want to share that and I still have so much I want to learn.
OS: Of course this show has your fans wondering if you'll record again soon. Any plans?
TY: Definitely! As much as I enjoy the cookbooks and this show, I miss music. I'm in the middle of making a new records. I was working on it when my mom got sick,so I put everything on the back burner. Then I felt like I was ready to get back in there. Depending on all the factors, I would love to see something out by the end of next year or the first of the following year.
Find out more about Yearwood's show, her music and more on her website.