Kim Kardashian Fighting With Kanye West Over Money & Pregnant With His Baby
Kim Kardashian, Kanye West Dating: New Couple's Playlist
Bruce Jenner On Kim Kardashian And Kanye West's Romance: 'I'm Not That Excited'
They say the only bad publicity is no publicity, but nothing has got to be better than the barrage of headlines about Kanye West and Kim Kardashian's current celebrity coupling that popped up online over a recent forty-eight-hour period. The good news is that by the time you read this, the union may already have gone the way of Kanye's recently reported dalliance with Katy Perry, or Kardashian's seventy-two-day marriage to basketball player Kris Humphries.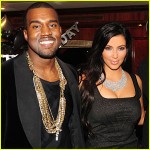 At least Kanye + Katy would have been a love connection that  made sense"if not from a romantic standpoint (Perry is probably too mouthy and headstrong to tolerate West's diva antics), at least from a business one. It could have been the low-rent version of his pal and sometime collaborator Jay-Z's marriage to Beyonce, with Kanye and Kim being the Mertzes to Jay-Z and Beyonce's Ricardos.
While an ongoing romantic relationship would guarantee Kim + Kanye (= Kimye) lifetime Us Weekly coverage, at what cost? Kim, who says she was friends with Kanye for years before they made their love connection, has everything to gain by dating Kanye. The seventh season of her E! reality series Keeping Up with the Kardashians begins on May 20, and the Kanye episodes should prove to be a ratings goldmine. Should Kimye make it all the way to the altar, a televised wedding would probably be the biggest thing since Prince Charles and Lady Diana Spencer at London's St. Paul's Cathedral, or Luke and Laura on General Hospital.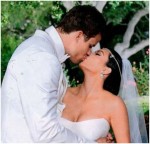 Of course, anyone considering getting involved with a Kardashian does so at the risk of his mental health and repeated invasions of privacy"public romance, public wedding, public break-up. And although everybody knows that Kanye is as addicted to publicity as he is to excess, we've already seen that he doesn't take public rejection or failure well.
And what about his image, which has been teetering precariously on the brink of unlikable for years? Even US President Barack Obama thinks he's an asshole"! No one will be calling him that for hooking up with Kim, but dating a reality star doesn't exactly scream, I'M HARDCORE, DAMMIT! It doesn't help that he's already rapping sweet nothings about her, too: And I'll admit, I fell in love with Kim, around the same time she fell in love with him, he rhymes on his new non-album single Way Too Cold (previously known as Theraflu). Kim's reaction: I like the song.
Although lately street cred has become increasingly optional to success in rap, the cycle will no doubt eventually come back around to the other side, with the Flo Ridas and Pitbulls of today becoming the MC Hammers and Vanilla Ices of tomorrow. It's one thing to go into the studio with Madonna and David Guetta, but Nicki Minaj, the most ambitious woman in rap, probably knows better than to ever go anywhere near Jersey Shore's Mike The Situation Sorrentino.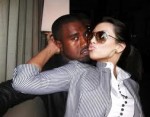 Of course, by this point, West might very well be bad press-proof. He publicly dismissed America's country-pop sweetheart Taylor Swift by hijacking her Best Female Video acceptance speech at the 2009 MTV Video Music Awards and still went on to have more No. 1 albums. If West is as smart as I think he is"and maybe this entire Kimye thing might be his way of staying in the news while he's between albums (his GOOD MUSIC record label will release its first studio set, a compilation called GOOD Music, this year)"he'll let it play out, then peter out, without putting a ring on it.
Who knows? Maybe Swift will be available by then. Now there's an A-list love match that would be daring and dangerous, everything that any rapper worth his weight in gold and platinum ought to be.