With summer right around the corner, we can't help but be totally stoked for Warped Tour. In case you haven't heard, we'll be sponsoring our own stage for twenty-two dates and bringing twenty-three artists out to perform on it. Twenty-two acts will snag a performance at their local tour stop, and one lucky artist will get to perform on every date (tour bus included). In addition, there are a handful of other OurStage artists already booked to play various dates of the tour. We decided to catch up with them to get the scoop on their summer plans.
New Jersey's Lost In Society are exactly what comes to mind when you think of  Warped Tour; loud guitars, fast drums and raspy vocals make them the perfect fit for the summer festival. Led by frontman Zack Moyle, this band has taken a truly punk rock DIY approach to their career, and their hard work has landed them on fourteen dates of Warped Tour this year. We caught up with Zack to talk about the band's beginnings, what they love about Warped and what we can expect from them next.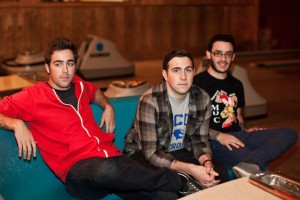 OS:  Lost In Society started playing together in 2004. Tell us about how the band formed and how you decided on a name.
ZM: Nick [Ruroede, bassist] and I were in the same homeroom and we wanted to do a talent show in eighth grade, so we decided we were going to do a Green Day medley. We found a drummer, who was with us for about four years before Hector [Bonora, current drummer] joined. We started practicing together, and then eventually I started writing my own songs and we played that instead. I got the name when I was about ten or twelve, even before I could really play an instrument. I just knew I wanted to start a band, and I liked that name, so I just kind of chose it!
OS:  You guys are based in Asbury Park, New Jersey, which is known for its strong rock history. How did your local scene contribute to LIS's career?
ZM: It definitely contributed, I always grew up around a lot of music, so that definitely influenced me to want to start a band and be a part of what's going on here.
OS: Did you go to a lot of shows when you were younger?
ZM: Yeah, I was at a show like every single weekend. The first Bamboozle was in Asbury Park, in 2003 or whatever, so that's when I really started going to shows.
OS:  You have a very DIY approach to being in a band. Can you tell us about that?
ZM: We're very self-sufficient. We have a label and a manager, but as much as we'll do for ourselves, they'll do for us. So if we're not pulling our own weight, they won't waste their time on us. We've always worked our asses off for everything. We book our own shows, we book our own tours. We make our own contacts. Whatever our label can do for us, we accept. They basically give us guidelines for what to do and we do them. It's a good relationship. They do a lot for us, but they're only going to do as much as we give back.
OS:  This year, you're playing fourteen dates of the Warped Tour. What is your favorite memory of Warped Tours you've been to in the past?
ZM: There's a lot of good ones. I would probably say…I was pretty young, and it was the first time I saw Rise Against, and they're one of my favorite bands, if not my favorite band. It was right when they came out with Siren Song Of The Counter-Culture. I've seen them, like, ten times since. I just remember how excited I was and how everyone was into it, screaming every word and being exhausted and almost passing out from the heat.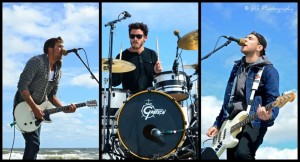 OS: What do you guys do to get psyched up before a show? Do you have any pre-show rituals?
ZM: We have this really good friend, Jimmy Franklin, and he'll come up and play a couple of songs some times. But before every show, he'll give us a handshake and just say, "Do it right this time." It doesn't feel like a real show if he's not there.
OS: So you bring him with you when you play outside of your local area?
ZM: Yeah, yeah. He was just on tour with us…he came on our first tour with us. I'm pretty sure he'll be on Warped Tour with us, so we'll feel right at home.
OS: What are your plans for after Warped Tour?
ZM: We're definitely going to demo, even though we're coming out with a new full-length on June 5th. We definitely want to shop around to bigger labels, big indie labels like Epitaph. Something that's a step up, like Side One Dummy. We'll definitely book another tour for the fall, maybe find a bigger band to headline it and just go on tour with them, that would be the perfect scenario. We'll probably record an album early next year.
OS: Awesome. So you'll be playing songs from this new album on Warped Tour?
ZM: Yeah. We actually started playing a lot of new stuff off the new album on this past tour. We haven't been playing it so much locally, because we kind of want to keep it on the DL for the hardcore fans. Actually, we just got notified that we got on the Warped Tour compilation, which is pretty awesome. We're really excited about that.
OS: Is there anything else you'd like to say to your fans on OurStage?
ZM: Keep an eye out for a new single and a new video off the new album, probably some time in early May. Also, we're doing a video for "Not Afraid." It's going to be a very viral-esque video. There's not a lot of us in it, but there's a lot of animation. It's pretty cool!
Check out Lost In Society's video for "Wrong Direction" and catch them on Warped Tour at the dates below!
Jul 05 – Maryland Heights, MO
Jul 06 – Auburn Hills, MI
Jul 07 – Tinley Park, IL
Jul 08 – Shakopee, MN
Jul 09 – Bonner Springs, KS
Jul 10 – Noblesville, IN
Jul 11 – Cuyahoga Falls, OH
Jul 12 – Burgettstown, PA
Jul 14 – Montreal, QC CA
Jul 15 – Toronto, ON CA
Jul 17 – Darien Center, NY
Jul 18 – Scranton, PA
Jul 22 – Hartford, CT