In Gregg Allman's new autobiography, My Cross To Bear, the man who has helmed The Allman Brothers Band since their inception in 1969 reflects on the wins, losses and draws he has experienced in his four decades of rock stardom. Having Allman's history put into this kind of historical focus provides an excellent opportunity for slightly less objective parties (ahem) to tally up the home runs and strikeouts Allman has racked up in his long reign on the Southern rock throne. Some of them are as obvious as the beard on Gregg's mug, but a few of them just might come as news to you.
1. The Hour Glass
Allman hit the ground running with The Hour Glass, the band he formed with his guitar virtuoso brother Duane. Their first album was released before Gregg was even out of his teens, and both of the band's records featured an appealing blend of soul and psychedelic rock, including everything from an R&B-soaked take on Carole King's "No Easy Way Down" to a paisley-patterned adaptation of Edgar Allen Poe's "The Bells" alongside original material.
2. The 31st of February
Beloved by diehard record geeks and unknown to almost everyone else, The 31st of February was" like The Hour Glass"a Jacksonville, FL-based band, and in 1968 they made one of the most gorgeous psychedelic recordings of the era in their self-titled debut album. The group happened to include future Allman Brothers Band drummer Butch Trucks, and after The Hour Glass broke up, Duane and Gregg joined forces with 31st of February, making a record that edged closer to the kind of rootsy sound the ABB would soon perfect. The group fell apart before their second album came out, though, and it didn't see the light of day until after Gregg, Duane and Butch had moved on to what would become their life's work. Issued under the brothers' names, the record includes an early version of Allman Brothers Band staple "Melissa."
3. The Allman Brothers Band
Obviously no sentient being with even the most casual interest in '60s/'70s rock needs to be informed about what The Allman Brothers Band achieved in its heyday. Perhaps only The Grateful Dead managed anything comparable to the Allmans' mix of earthy Americana, rock firepower, sharp songwriting and a jazzy improvisational fluidity that made most of the other jam-happy bands of the day look like underqualified blowhards. Check their seminal Fillmore East live album for one example among many of their onstage intensity.
4. Making the organ a cool rock axe
Gregg Allman was among a small handful of '60s rockers who made playing the organ seem like a somewhat sexy endeavor. Before guys like Allman, The Spencer Davis Group's Steve Winwood and The Rascals' Felix Cavaliere came along, sitting behind a Hammond was hip for pumping out hymns at Sunday mass and offering on-site demonstrations at department stores. But after Gregg and his peers arrived on the scene, organ-pounders could comfortably slug it out alongside guitar slingers and hold their heads up high.
5. The blues-rock burden
As the title of Allman's autobiography points out, everybody's got their cross to bear. Like the rest of the human race, Gregg has led a far-from-perfect life, but most of his mistakes will eventually fall through the cracks of history, vastly outweighed as they are by his triumphs. There is one thing, however, for which Allman is chronically called to answer"the codification of blues rock as a viable musical genre. Make no mistake, the Allman Brothers were masters at taking tunes by the likes of Sonny Boy Williamson and Muddy Waters and reinterpreting them in the rock idiom, and a good few other acts were able to make it work as well. But in the main, the musical crimes that have been committed by less accomplished artists in the name rocking up the blues over the last four decades add up to a bill that Gregg will still be paying off well into the afterlife.
6. Cher
In 1975, presumably because he seemed like the most obvious choice to follow in Sonny Bono's footsteps, Allman became the second husband of Cher. Since both he and his then-wife were major media figures at the time, they became one of rock's first super-couples. Cher and Gregg divorced in '79, and while only they are qualified to comment on the nature of their personal relationship (see item number eight), the appropriately titled Two The Hard Way album, recorded by the pair in 1977 under the name Allman and Woman, does not rank among the most solid decisions of Gregg's recording career. To give you an idea, here's what was going on even before they officially got together:
7. "I'm No Angel"
Ignore the people who invoke the names of such one-hit-wonder pop acts as Falco and Frankie Goes To Hollywood when attempting to encapsulate the musical nadir of the Reagan era. This represents the worst of what the '80s wrought on the radio. Granted, The Allman Brothers Band was in the midst of an extended hiatus in 1986, and it had been almost a decade since Gregg's last solo album, so he was presumably hungry for a hit"and he got one. Still, that's small justification for a song that actually contains the line "Come on baby, come and let me show you my tattoo." About the only thing that can be said in Allman's defense is that he didn't write it himself.
8. Guesting on Family Guy
Whatever missteps one may make in life, the ability to laugh about it is all-important. Time tends to add perspective to a man's reflections, and there was a lot of water under the bridge by the time Gregg made a guest appearance as himself on a 2000 episode of Family Guy entitled "Let's Go to the Hop." At one point in the show, a troubled Peter Griffin sees a poster of Allman on a wall and asks the image, "How did you handle it when life got you down?" The poster comes to life, and replies, "I did a lot of drugs and married some broad named Cher. And I don't recommend either one of them."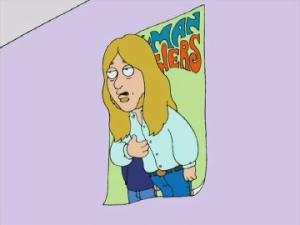 9. Low Country Blues
The last thing most people probably expected Gregg Allman to do in 2011, coming off of some serious health issues and having gone a decade and a half without cutting a solo record (and even longer since the last new ABB album) was to release one of the finest recordings of the year. For Low Country Blues, Allman made the wise decisions to enlist T-Bone Burnett as a producer and to stay close to his roots by making a record consisting mostly of old blues tunes. It was almost enough to wipe away the memory of "I'm No Angel."
10. Staying Alive
Sixty-four-year-old Gregg Allman has been through several kinds of substance-abuse problems, Hepatitis C, a liver transplant, and six marriages, among other things. The accumulated weight of it all might have felled a man of a less hardy constitution, but Allman keeps on rocking regardless. Besides revitalizing his solo career with the aforementioned, exceptional 2011 album, he's still behind the Hammond leading The Allman Brothers Band on the road, long after bandmates Duane Allman and Berry Oakley have fallen by the wayside. Don't ask how the hell he does it, just be glad he's doing it.