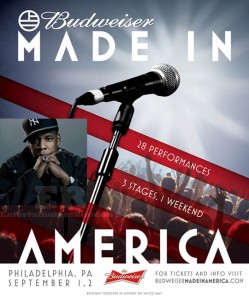 Jay-Z will kick off the fall with a two-day festival in Philadelphia this September featuring several big names from across the musical spectrum. Jay-Z, headlining along with Pearl Jam, will be joined by other rap and hip-hop acts such as Odd Future, Maybach Music (feat. Rick Ross, Wale, and Meek Mill) and Drake. Several indie pop and electronic artists will also be making appearances, including Miike Snow, Passion Pit, Dirty Projectors, Afrojack, and Skrillex, just to name a few.
The festival will be set in Philadelphia's own Fairmont Park over Labor Day weekend, dropping beats to support the United Way. According to Billboard.com, Jay-Z stated, "[W]e will not only make history but we're benefiting a great organization. He went on to discuss the eclectic program selections, saying that the festival "will encompass every genre of music, creating and showcasing the only genre that matters, ˜great music.'
Live Nation will produce the event, opening ticket sales on Wednesday, May 23. With a full lineup still yet to be released, show-goers can expect a mix of rock, hip-hop, R&B, Latin, and dance, as declared in the press release on Monday morning.