Last week, Maybach Music Group made big waves when they announced some serious plans for 2012 that include a new Reebok clothing line with Swizz Beatz, three summer release dates for MMG artists and a surprising new addition to the team.
Rick Ross was joined by Warner Bros. and Def Jam Recordings executives Steve Bartels, Todd Moscowitz and Lyor Cohen, who spoke quite highly of The Boss.
When I got a chance to meet him, I saw someone that was going to be undeterred in achieving the success that he has, said Cohen. He's not satisfied. There's no stopping him. I'm so grateful that I'm associated with him and that the Warner Bros. label is associated with him. The possibilities that Rick and Maybach Music are going to bring is going to be, in my mind, unprecedented.
Swizz Beatz hit the stage to announce his partnership with Ross on a Big & Tall clothing line for Reebok. He's going to lead the big and tall movement, said Swizz. There's a limit with clothes that stops at a certain point. With Ross, everything has to be custom made. I felt that instead of just doing a regular sneaker, we give Ross his own big and tall line.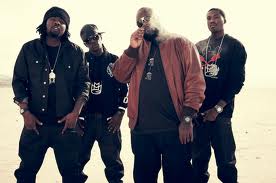 Also present was Diddy, whose relationship with Ross still seems a bit unclear. I'm here to celebrate the hard work and success of my brother Rick Ross, he said. He, to me, is one of the hardest working men in this business. To have a relationship with him, this is not by accident. I know he will go down in history as one of the great record men.
With three big releases slated for this summer, MMG shows no signs of slowing down. Wale will kick off a slew of summer releases when he drops his sophomore album, Self Made Volume 2 on June 26. Next will be French Montana's studio debut, Excuse My French will arrive on July 17. Rick Ross promised a new single from God Forgives, I Don't would hit airwaves extremely soon and announced a July 31 drop date for the album. Meek Mill will finally drop his debut album, Dreams & Nightmares on August 28.
Contrary to swirling rumors that Mase would be the newest member of MMG; Ross surprised everyone when he brought out Omarion, as the newest addition to the crew. "A lot of people have been wondering what's up with Omarion? Is his career over?" said Omarion. "I've never been a fan of popular opinion, but from now on, when you see me, understand that it's Maybach Music."
Omarion's signing came as a shock, considering the R&B crooner has been laying low for years.  He told XXL, I'm so excited. I can't even express, you know, how excited I am," he said. "It's been a blessing¦ He showed that love and he showed that respect and he was like I believe in you,' you know what I mean? I can't even count to you how many times on my hand in my whole career that I've actually had people tell me that," he said. His new single, Let's Talk, features a sample from The Notorious B.I.G. and will be the first release under MMG.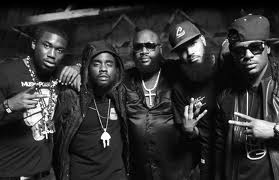 LA's own Nipsey Hussle is another rumored recruit, spending studio time with two of MMG's heaviest hitters. "Ross and Meek, I've been in the studio a couple times with both of them. When it's going to come out, ain't no telling. It might not, it might end up on one of the projects," he told Droz Daily Steezin. "It's just getting the vibe up and breaking the ice and get a few records knocked out with artists you fuck with."
Nipsey is still being coy about how close he is to joining Ross' stellar squad. "About me signing, we still grinding, we still building. That's the biggest name in the game right there, he said. They grindin', they killin' shit. I'm just trying to keep building my situation right now. In the future, you'll see what goes on. Right now, we still just building."
Whether or not Nipsey joins the squad, it looks like Maybach Music Group is gearing up to give Weezy a run for his Young Money crown.  With Nicki and Drizzys latest releases falling a bit flat; MMG is the new hip hop label to watch.