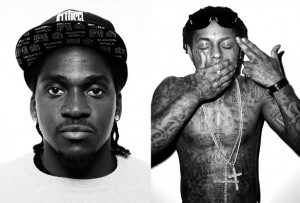 Young Money Cash Money Baby. Getting Out Our Dreams Music. Two of the biggest labels/collectives in hip-hop right now. And they both have beef with one another.
Fight fight fight!
The problem seemingly started with the release of "Exodus 21:3," the diss track from G.O.O.D. stable member and one half of the Clipse Pusha T. We covered the track and the subsequent reaction from YMCMB head honcho Lil Wayne. With one strongly worded tweet, the fight was on. But who, exactly, is fighting?
There's been bad blood brewing between Wayne and Pusha T for years. The first sign of beef between the two rappers seems to extend all the way back to 2006 when the Clipse was still a going concern. MissInfo.tv has a great rundown of how the beef developed; Pusha takes some subliminal (read: perceived) jabs at Wayne in the video and in the verses for the track "Mr. Me Too."
From there, Wayne and Pusha exchange shots through radio interviews and in soundbites. This round of the squabble came to a head with a contentious interview from Lil Wayne in Complex Magazine. Fortunately, things had become relatively calm since then. In 2011, Pusha T actually congratulated Wayne on his recent release from incarceration on his Fear Of God mixtape:
Yeah, they done freed Weezy, congratulations my n***a! Now let Tip go.
So all word of drama between the two rappers was squashed… until "Exodus 23:1" dropped.
There's definitely something going on between Wayne and Pusha, but whether they'll be able to work through this most recent animus is anyone's guess. So how have the rest of G.O.O.D. Music and YMCMB reacted? Are guns being drawn? Well, not really.
Drake, arguably the most popular and public face of the YMCMB brand has been relatively quiet compared to his mentor Wayne. Drake and Pusha have also traded barbs in the past few months"Pusha may have been going after Drake when he went over the beat from "Dreams Money Can Buy" for his track "Don't Fuck With Me""but the Canadian MC has only commented on the war of words once at an appearance in Washington, D.C. Other members of YMCMB haven't really chimed in, with the exception of Young Money Entertainment President Mack Maine, who compared Pusha T to a gnat in an interview with MTV. Said Maine, "(s)ometimes you swat it and the gnat dies; sometimes it just go away."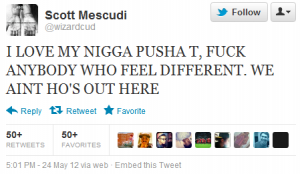 So, is there really a beef between the two labels? In that same interview, Maine denied any discord between the two groups. Indeed, G.O.O.D. Music member Big Sean is featured on Lil Wayne's most recent single "My Homies Still." Sean himself dismissed perceptions of contention between G.O.O.D. and YMCMB. G.O.O.D. boss Kanye West has made mention of the beef (he's too busy playing "N***as in Paris" 11 times in a row at Watch The Throne shows). In fact, the only other G.O.O.D. music member to make reference to the beef was Kid Cudi. And his tweet in response to the growing rabble around Pusha T didn't really cast any aspersions. The Cudder just wanted to know that he has his homie's back.
What's the deal then with the YMCMB/G.O.O.D. Music fight? In hindsight, it seems that brewing battle between G.O.O.D. Music and YMCMB is little more than media-generated hoopla. As for Pusha T and Lil Wayne's continued bickering, Andy Milonakis put it best.