Usher released his long-awaited follow-up to the über successful Raymond vs. Raymond today with an unexpected new sound. Though many critics call Usher's seventh studio album, Looking 4 Myself, one of his strongest ever; the project left me looking for my money back.
The 14-track album features tracks from Rico Love, Will.I.Am, Jim Jonsin, Max Martin, and Diplo among others.  It also features cameos from Rick Ross, ASAP Rocky, and Pharell. While his first single, Climax is currently at No. 40 on the Billboard Hot 100 chart and No. 1 on the Hip-Hop/R&B Songs chart, it has failed to win me over since its release last month.
I can respect and actually applaud an artist who isn't afraid to push boundaries and challenge preconceptions, but I think Usher has taken this reinvention a bit too far.  What many critics are praising as ˜groundbreaking' and ˜genre-crossing' really just sounds retro and recycled to me.  The lines between innovation and replication have blurred, and I'm left with an album that feels like a cross between pop hits from the late 1980s and *NSYNC circa 2001 on their No Strings Attached tour.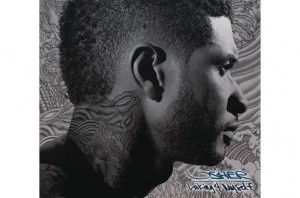 In the album's opening track, Can't Stop, Won't Stop, Will.I.Am provides the production for lyrics like Love you like a lollipop from the bottom to the top/get you wet/ raincoat let me be your body soap. Really?
What happened to the songwriting behind hits like Confessions and Burn or even throwbacks like You Make Me Wanna?  Even in the bonus tracks, there was nothing even close to those kinds of hits on this album.  In truth, the Usher I know and love was nowhere in sight; or"in earshot.
Still, many others love the new direction. NPR said, Looking 4 Myself is solidly soulful, dramatic in all the right places, heartfelt, deeply danceable, sexy: in a shiny new package, it's classic R&B.
Below are some highlights and lowlights of Usher's latest offering:
Scream:  The album's second single is slowly making its way to radio, but lacks the lyrics and luster of a true hit. The sexually charged pounding sounds awfully familiar¦ DJ Got Me Fallin In Love Again anyone?
Hot Thing: This track features ASAP Rocky and is produced by The Neptunes. One of four bonus tracks on the album; it's one of the stronger songs that probably should have made the main track list. While its more palpable as a whole than most of the other records on the list, it was still a loser, lyrically.
Lemme See: This is one of the stronger tracks on the album and comes courtesy of super producer, Jim Jonsin and features a characteristically cool verse from Rick Ross.
Twisted: The seventies-sounding throwback track is a welcomed surprise and unexpectedly cool and catchy.  Thanks to Pharell's effortless swag and Usher's uncanny ability to seduce at mid-tempo, this one's a winner.
Dive: This is another favorite from the album, and another winner from Jim Jonsin and Rico Love. It's Usher at his finest"in his sensual sweet spot, confident and flirtatious without being hokey. It's songs like this that leave room in fans' memories for occasional duds.