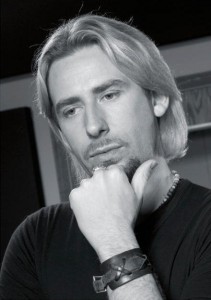 Chad Kroeger doesn't think we'll be looking at his photograph in the Rock and Roll Hall of Fame anytime soon. In a feature run yesterday by the Edmonton Journal, the frontman of the multi-platinum band Nickelback remarked on the critical perception of his group.
"We may be dead by then but I think the Rock and Roll Hall of Fame will probably show up the same time as our first GRAMMY," said Kroeger.
It seems at times that mocking Nickelback has become something of an international passtime. People of every age, creed, color, and political affiliation can get behind their distaste for the Canadian hard rock band. Back in 2010 the band was notably out-liked on Facebook by a pickle. But to the band's credit they've handled their lack of acclaim quite well.
The group has even struck out against haters before in print and over social media. In the same feature Kroeger went on to comment on the fan petition around their halftime performance during the Detroit Lions Thanksgivings Day game, stating that the move only served to increase ratings for the game. The band has also taken on detractors through their Twitter feed, going tweet-for-tweet with disparaging commentators (even if the responses aren't particularly clever).
Not that the band is losing sleep over a lack of critical love or GRAMMY trophies. The band has sold 50 million albums worldwide and is the second best selling act of all time in the U.S. after The Beatles. Obviously, someone's listening. So don't expect Nickelback to change their tune anytime soon.