We could swear that Justin Vernon says something about shoes in at least one Bon Iver song. Honestly, we're still trying to figure out which words he's singing. Either way, the man behind the pseudonym has teamed up with Los Angeles shoe company Keep to produce a custom line of "Bon Iver" shoes that follow the style of the company's preexisting Ramos line. The salmon-colored canvas shoes feature a herringbone design and a black fishbone image on the toe.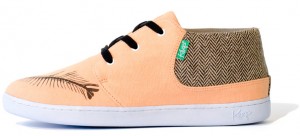 This is the second time the company has teamed up with an indie artist to create limited edition sneakers. They released a line of products designed by members of Animal Collective in 2010, the proceeds from which benefitted the Socorro Island Conservation Fund to protect the marina biosphere off the California coast. Though Keep's press release states that both the company and Vernon "support Best Friends Animal Society," it is unclear whether the same donation method will apply to the sales of Bon Iver's shoe as well.
The sneakers are manufactured in a humane process that is supposedly "cruelty-free" towards animals. If only it were as considerate of our eyes. The shoes will be available for pre-order at the Keep website until Sunday, July 1, and will arrive in stores October 2012.