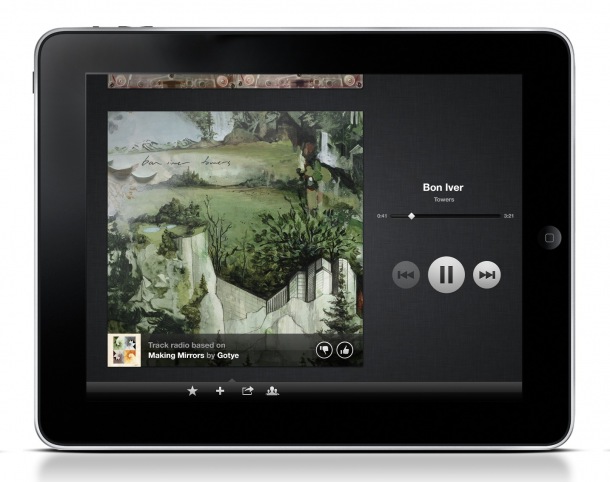 Music streaming service Spotify is announcing a new radio feature that will provide users with a listening experience that rather closely emulates the likes of Pandora. The service will be available on all Spotify iOS applications, allowing free users in the US to finally make use of the app, currently limited to premium members. Although there are still some perks to using the radio as a premium member, like having no advertising and unlimited skips, the app will now draw in free users who have been previously excluded from streaming music on their iPhones and iPads.
Spotify VP Charlie Hellman told Venture Beat: Our focus has always been on creating an amazing user experience. The radio feature we've added to our iPhone and iPad apps gives users the ability to discover, listen, and save what they like on the go " all within one app " for free.
The radio feature did launch on Spotify's desktop application in December of 2011, but there is no doubt that the mobile function bears striking resemblances to the functions of Pandora's mobile listening application. Pandora is listed as the largest digital music service in the US with 52 million active listeners, as stated by its financial results in May, and 70% of those users listen on mobile devices. It's still unclear how many Spotify users there are currently in the US, but this launch could potentially threaten Pandora's already struggling "Music Genome Project."
Spotify has the legal ability to employ the radio function in the US due to local licensing laws, but other countries will not be offered the same function for free. Spotify states: We aim to bring a free mobile radio service to Spotify users in all countries over time, subject to licensing. Until then, the mobile radio will be accessible to users who sign on for a 30-day free trial of its premium service.
The mobile radio will be added to the company's Android app in the coming weeks, but for now is only being implemented for iOS users. The updated Spotify app will available for download in the next few days.