The summer blockbuster is already well upon us, what with The Avengers (awesome!) and Hunger Games (eh?) making out like gangbusters at the box office. But 2012's summer movie season isn't just rich with moody, gritty epics and superhero franchise pieces. No, it's also shaping up to be a great period for music films as well. Here are three music movies that we're most excited about this summer.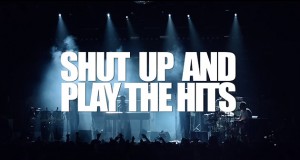 Shut Up And Play The Hits
LCD Soundsystem started out as just another Brooklyn hipster band fronted by a guy with too much scruff. But as Shut Up And Play The Hits will show, the group became so much more. The film covers the band's final show to a sold-out crowd at Madison Square Garden in addition to a little bit of the periods just before and after the momentous event. Check out the trailer below.
No Room For Rockstars – The Vans Warped Tour Movie
Still going strong after all these years, the venerable Vans Warped Tour has allowed hundreds of bands – including many OurStage artists – to grace the stage in parking lots and fairgrounds across the country. No Room For Rockstars aims to capture the Warped Tour experience from the eyes of the artists, roadies, the fans, and the kids who are just trying to survive the whole thing. Unlike the other movies included here, this one just came out on DVD and on iTunes.
Something From Nothing: The Art Of Rap
From director Ice-T comes Something from Nothing: The Art of Rap, a fascinating look into the rap game. Most of the people featured are already household names, from Snoop Dogg to Kanye West, Nas to Eminem. That said, there's a number of less well-known MCs featured, giving their insight into what has become one of the most popular musical genres of the past two decades. To have all these voices included in one place is something special…maybe even swag? You can check out the trailer below and you can also feast your ears on a little freestyle Eminem did for the movie here. Opens in theatres on June 15.