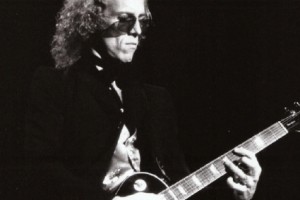 Bob Welch has died of an apparent suicide at the age of 66.
His wife Wendy reportedly confirmed, via Bart Herbison of the Nashville Songwriters Association, that he had serious health issues and a recent spinal surgery. Speculation is that he did not wish to become a burden to her.
Welch was guitarist and singer for Fleetwood Mac between 1971 and '74. Though the band did not achieve superstar status until the 1976 release of their smash LP Rumors, they had formed a decade earlier as a blues band around renowned guitarist Peter Green, but with only drummer Mick Fleetwood remaining a constant member through the peak of the band's career. (Bassist John McVie joined shortly after the formation, and the band name derives from a combination of his and Fleetwood's names.) Members rotated in and out, but in his autobiography, Mick Fleetwood credits the arrival of Bob Welch as the factor that prevented the dissolution of Fleetwood Mac. The enormity of their later success has unfortunately eclipsed the importance of Welsh's contributions, but he brought a smooth tunefulness to the group that enabled their transition from English blues to commercial pop. He recorded the Mac albums Future Games, Bare Trees, and Heroes Are Hard To Find.
Welch left the band in 1974 and had some success as a solo artist, with his song "Ebony Eyes" reaching the Billboard Top 20.
Though Welch felt in later years that he had been forgotten even by the band, Stevie Nicks reacted strongly to the news of his passing.
"The death of Bob Welch is devastating … I had many great times with him after Lindsey and I joined Fleetwood Mac. He was an amazing guitar player " he was funny, sweet " and he was smart. I am so very sorry for his family and for the family of Fleetwood Mac " so, so sad …"
Assessing his career in 2003, he told the Nashville Tennessean: "I just wanted to play guitar in a good band. I wanted to make the music I love. I wanted to travel the world and have adventures."
A success by any fair estimation. RIP Bob Welch.