Last week, Frank Ocean told the world he was gay in an open letter posted on his Tumblr account.
"Whoever you are, wherever you are… I'm starting to think we're a lot alike," he writes. He goes on to describe details of his first love, which he reveals, was a man.
"We spent that summer, and the summer after, together. Everyday almost. And on the days we were together, time would glide¦Most of the day I'd see him, and his smile. I'd hear his conversation and his silence…until it was time to sleep. Sleep I would often share with him¦By the time I realized I was in love, it was malignant. It was hopeless. There was no escaping, no negotiating with the feeling. No choice. It was my first love, it changed my life."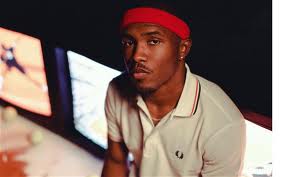 "I reminisced about the sentimental songs I enjoyed when I was a teenager¦the ones I played when I experienced a girlfriend for the first time. I realized they were written in a language I did not speak¦I don't have any secrets I need kept anymore," he wrote.
For fans wondering what his Odd Future crew members think about his recent revelations, particularly Tyler The Creator, who has been publically chastised for making homophobic remarks and gestures numerous times; he made it clear he was onboard with Ocean's decision.
Tyler tweeted, "My big brother finally f—ing did that. Proud of that n—a cause I know that sh– is difficult or whatever. Anyway. I'm a toilet," he quipped.
While the crew is no stranger to homosexuality, their female member, Syd Da Kid is a lesbian, a man coming clean in the hip- hop world is a much bigger deal.  No one has been brave enough to attempt an R&B career aimed at the mainstream masses while asserting a same sex preference.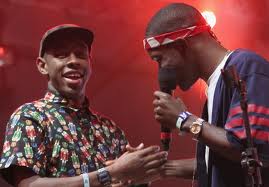 Datwon Thomas, executive editor of VIBE weighed in on the matter, explaining that Ocean's honesty may be what the hip-hop community needs to rid itself of the homophobic culture it has nurtured since its inception, and that other stars have the power to change the dialogue. "It really has to be a situation with someone that the hip-hop community respects," he said. "Outside of Odd Future, Jay-Z, and Kanye, the biggest icons in hip-hop, living legends, they've accepted him already."
Ocean received support from some more famous faces last week after news broke of his admission. Trina told TMZ, "He's extremely talented and that's what matters. I don't think [Frank's] music or the level of support his music obtains should be judged based on his sexual preference," she said. "If he's happy and comfortable with his sexuality then so be it," she added. "I feel his decision to come forward was bold and honest. It's his life. Let him enjoy and live it. I wish him much success and happiness."
Busta Rhymes also lent his support, telling MTV News,  "Whatever that man does in his personal space is that man's choice and that man's business I am an extremely huge fan of Frank Ocean. His music is impeccable to me, and as far as I'm concerned, I respect the dude completely."
"From hip-hop all the way down to the common man…we're at a place in life where we gotta respect and accept what people choose as their path that they wanna walk in life, because ultimately you want people to respect what you choose as your path and your journey in life," he said.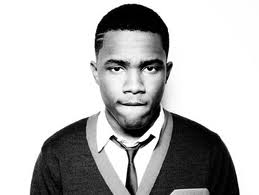 Over the weekend, Beyoncé showed her support by posting a handwritten note over a photo of Ocean. Over the photo, she wrote, "Be fearless. Be honest. Be generous. Be brave. Be poetic. Be open. Be free. Be yourself. Be in love. Be happy. Be inspiration."
While Ocean has yet to comment publically on the letter, more revelations are expected to surface when he drops his Def Jam debut, Channel Orange on July 17.
The 17-track project features features appearances by John Mayer on "White," Andre 3000 on "Pleasure," and Odd Future's Earl Sweatshirt joins him on "Super Rich Kids" The album's lead single,  "Thinking About You" is already heating up airwaves across the country. No Such Thing As White Jesus is a song he recorded with Nas that was reportedly lost to technical difficulties and won't make the album after all.
With the release of his debut solo album coming on the heels of such a huge and possibly polarizing decision, Ocean made a risky move.  In my opinion, it's one that he should be applauded for, and it's my hope that he will be.  With so many fans experiencing the struggles that come with homosexuality, the lack of reflection of those sentiments in today's music landscape is as criminal as the bigoted backlash such topics incite.  Ocean proved that he is a brave man, but more importantly, a true and authentic artist.