Guest contributor Larry g(EE), winner of the OurStage @Warped national competition, gives us the final word on some of his Warped Tour highlights.
Hello everyone!
Larry g(EE) here, back again for one last recap of my experience on the Vans Warped Tour with OurStage. It hasn't even been a full week since I got back from Warped, and I'm still feeling the aftermath (but I probably just miss it). I keep thinking James (our Warped tour manager) is going to wake me up at 7 am and tell me it's time to get moving. Ahh, life on the road…on a bus! I loved it and have no complaints! I've told my friends back home that this was one of the greatest experiences I've ever been a part of, both professionally and personally. I learned a lot from it, and I think that is the most important thing I'm going to take away from this amazing experience. Here are my Top 5 Moments on the Vans Warped Tour with OurStage.
1)  AUBURN HILLS – I'll never forget walking out of our bus into an empty parking lot at the Palace of Auburn Hills at 8 am to see it transformed into pure mayhem in the space of three hours. I had to pinch myself just looking out at the massive sea of people around all the different stages. It was almost like culture shock for me as I realized that this was going to be my life for the next 22 days. We had no idea what we were getting ourselves into, but we were here, and as soon as we hit the stage, we knew there was no looking back. We didn't sell a single thing that day, but one thing is for sure – on a tour like this, there is no room for second guessing. You just have to dive in and go for it. Like James said, we eventually hit our stride, but day one will go down as one of the biggest moments for me.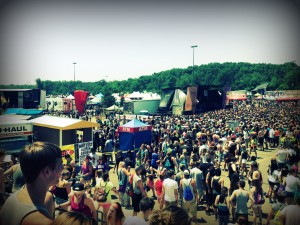 2)  TA DA! CATERING – Before I left, I thought I was going to lose a lot of weight; the tour is outdoors, you're hauling your gear/merch on gravel or pavement, you perform, and then you're just running all over the place (in 100 degree weather). That was until we had our first meal at catering. Ta Da! Catering is, hands down, one of the best catering services out there.  Their meals kept me and the band well-fed. Even their vegan stuff was on point; so much so that I'd pass up on a chicken dish…sometimes. There was one day when Warped placed the OurStage.com Stage right near catering. To our delight and surprise, the staff heard our set and loved it. They even played my EP in the dining room.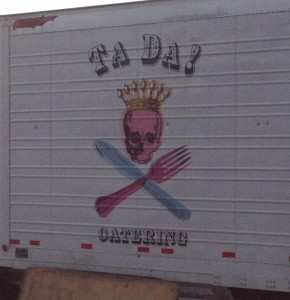 3)  THE BBQ – One of the best parts about this tour is the BBQ that typically (depending on bus call) is held an hour after the shows are over. All of the bands from all of the stages get together, have a few drinks, grub on some burgers (served by one of the bands on tour), and let loose after the long day they just had. There are two BBQs that stand out for me, and they were actually back-to-back, so it made it even more EPIC to be a part of. The first one was the Camden, N.J. BBQ. One of my favorite bands to watch on the tour, Skinny Lister, was the featured entertainment, and completely rocked my world. The second one was the Uniondale, N.Y. BBQ. Kevin Lyman, the head man behind the Warped Tour, hosted the party himself. When Kevin hosts the party, you know it's going to be an epic night…and that it was.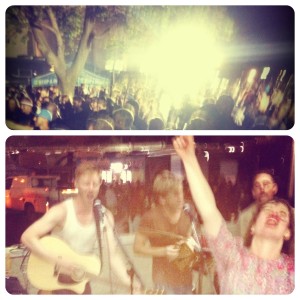 4)  The NACHO POSE – Our band had the ultimate pleasure of meeting and becoming good friends with Mr. Randy Haze. Randy is the guitarist for hip-hop artist Justina, who was also on the tour. Randy introduced me and the band to a pose simply called the "Nacho Pose." After teaching it to us, we helped Randy (although he doesn't need much help), get the pose out there on the Instagram world. We found strangers, fellow musicians, and just anyone willing to do the pose with us. Feel free to do one yourself. Just make sure you hashtag everything like this: #Nachopose #Shredlikehell …trust me, this is going to go viral around the world, if it hasn't already.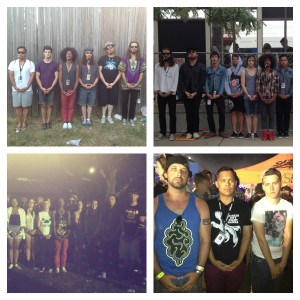 5)  The Fans – One of the best things about winning the competition for us was an opportunity to get exposure for the project " introducing us to a completely new audience that probably wasn't expecting to see a soul/funk band playing the OurStage.com Stage on the tour. We met and made so many cool fans during our run. Some immediately after our set and some after convincing them to listen to our EP at our merch tent. I run all my social networks personally and have seen a great increase in numbers since the tour. I plan on keep in touch with them and seeing them this fall when we tour these same cities again on our own.