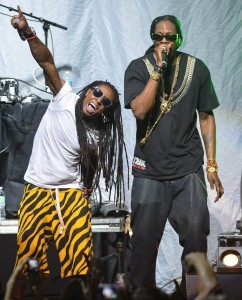 If you have been waiting with bated breath for Lil Wayne's Dedication 4 mixtape to drop, then breathe in deep. This might take a while. The rapper and YMCMB don took to Youtube to let fans know that his most recent mixtape would not be coming out on August 15th as scheduled.
Wayne shared the sad news from the plush leather seat of what appears to be a private jet, surrounded by his skateboard and Beats apparel, naturally. "I know I was supposed to drop that Dedication 4 tonight," Tunechi said.
"But listen, my homeboy [2 Chainz] just dropped his album yesterday." Wayne went on to say that he refused to, "put any attention on me when the spotlight should be on my nigga 2 Chainz' album Based On A T.R.U. Story. So therefore I ain't giving you bitches Dedication 4 yet."
It's pretty big of Wayne to show that kind of deference. Nevermind that he went on to mention that the Dedication 4 mixtape wasn't finished just yet. That's a formality. Perhaps he heard word that the G.O.O.D. Music album was getting delayed in order to get a few more features and wanted to add a few more guests in response?
But all is not lost! Lil Wayne did release a new track, "No Lie," along with news of the delay. The cut from the Dedication 4 mixtape has Wayne going over the beat from the 2 Chainz and Drake track of the same name. So there's that.
Check out the video of Lil Wayne's statement below.
More like this: