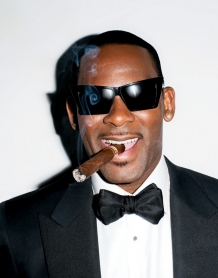 R. Kelly is continuing his work on the great epic narrative of our time.
The gloriously eccentric R&B singer recently let it slip to TMZ that he has committed an additional 32 chapters of his song/video series Trapped In The Closet to paper and is currently looking for investors to fund the project. The singer originally dropped hints back in March that he wasn't done with his "hip hopera."
It cost a lot of money to do it, so I'm looking for investors, R. Kelly said in his chat with TMZ. 32 more chapters, you guys have to find out what the package is, referring to the mysterious "package" which became the focal point of the series near the tail end of its initial run. The addition of thirty-two new chapters would bring Trapped In The Closet, our generation's Iliad, to a staggering 54 installments in length.
R. Kelly has been on a bit of a winning streak as of late. His autobiography Soulacoaster recently received the dramatic reading treatment from The Dark Knight Rises star Gary Oldman. Kelly is still killing it on the commercial front as well; his most recent album, Write Me Back, debuted at #5 on Billboard this past June.
You can actually watch the first 22 chapters of "Trapped In The Closet" on R. Kelly's Vevo account right now. Just tell your boss that work can wait, they'll understand that this is more important.
More like this: