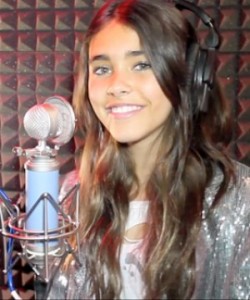 Madison Beer isn't a household name yet. But if the stars continue to align for her, then she'll be damn near inescapable in a few months' time. You see, Beer has been picked by none other than Justin Bieber as a star in the making.
On July 16, 2012, Madison Beer would read on paper as a fairly typical young teen. Frequently on Twitter with a mild Justin Bieber obsession, Beer most distinguished herself through her singing. Beer would post videos to her YouTube channel, covering Christina Perri and mashing up Bruno Mars. Having only been on the channel for a little under five months, Beer seemed to be making a modest, but by no means groundbreaking, impact with her tracks. Of course, it's impossible to gauge so early in any performer's career what heights they might reach. Talented musicians with great energy, defined profiles, and good skin are a dime a dozen in the music industry.
But that was then.
Cut to 12:15 pm on July 17th. Pop juggernaut Justin Bieber tweeted a link to one of Beer's videos, a cover of Etta James' "At Last." "Wow. 13 years old!" Bieber wrote. "She can sing. Great job. #futurestar." Since the tweet went out a little over two weeks ago, it has been retweeted over 25,000 times. Beer's follower count on Twitter has since skyrocketed from about 3,000 to over 40,000. Beer's account on YouTube has experienced some increased traction as well, currently boasting 11,000 subscribers. Chalk it up to The Bieber Bump. 
The attention from high places hasn't been lost on the rest of the world. Beer's peternatural talent, beguiling good looks, and head-spinning ascent has also made her easy to write about. "Who Is Madison Beer and Why Is She Trending on Twitter?!" E! Online asks hyperbolically. (As though any trending topics need to have a valid explanation.) YouTube commenters have praised her vocal abilities and have compared her looks to actress Megan Fox, both favorably and unfavorably.
The other Beer comparison that keeps coming up is with pop star Carly Rae Jepsen. But Jepsen's career arc more closely resembles Kelly Clarkson's than Beer's. For one, Jepsen had a career before Beiber. She had been making a name for herself by somewhat more traditional methods than tweets and social media; Jepsen is a product of reality television. She first impacted the music industry in late 2007 with a successful run on Canadian Idol. Making it all the way to the Top 3, Jepsen was the last female contestant eliminated in her season.
Jepsen's run on Canadian Idol led to a label deal. This, in turn, connected Jepsen with the producer and the songwriter who helped her craft "Call Me Maybe." Released on September 20, 2011, the song didn't crack the Top 40 in Canada until late November and wouldn't cross over into the Top 10 until the end of January 2012. Again, enter Bieber.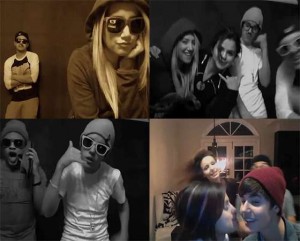 On December 30, while visiting home for the holiday season, Bieber reportedly heard "Call Me Maybe" on the radio. He liked it so much he had to tell some 20+ million people about it. Two months later, on the eve of the song's stateside release"through Bieber's manager Scooter Braun's Schoolboy Records " an unofficial video for the track came out. The clip featured a cavalcade of notable tween stars, including Bieber, Selena Gomez, and members of the band Big Time Rush. The jovial clip racked up a couple million views before the official video dropped in early March. But by that point the modest buzz surrounding Jepsen had swelled into a rogue wave which crashed into the public consciousness just in time for summer.
It's impossible to say whether Justin Bieber, in fact, "discovered" Madison Beer. It appears that the first mention of Beer from anyone in Camp Bieber came from Scooter Braun, dating back to a tweet from June 14th. That fact hasn't really been mentioned in much of the coverage surrounding Beer because Braun, while a tastemaker and a tweeter of note in his own right, is no Justin Bieber. Braun finding Beer clashes with the established "discovery" narrative. That said, it doesn't really matter whether Beiber truly picked Beer out of the digital ether on his own. Beer's story is the second case study in the effects of Bieber's influence over his fanbase and on pop culture in general.
It's not enough to say that Justin Bieber is the second most followed person on Twitter; his fan base, the Beliebers, is as large as it is motivated. While Beliebers may seem like an unruly bunch, their collective power and pockets are deep. When leveraged properly, these devotees are a force to be reckoned with. Beliebers are sometimes rallied for "buyouts;" coordinated efforts to snatch up all Bieber-related merch from a mall in the name of charity. If they can be brought together in the name of launching a nameless performer into the spotlight, then why not?
Kudos to Bieber; he's a pop star, job creator, and economic engine for our uncertain times.
More like this: