It's rare to see an artist go from piano lessons to party rocking, but Eva Simons is not your typical pop star. The 28-year-old Dutch singer-songwriter found her musical passions at an early age. Simons was classically trained pianist who graduated from the Conservatorium van Amsterdam. Her monster dance hit with Afrojack, "Take Over Control," which she also co-wrote, topped the iTunes dance charts globally, and has sold nearly a million downloads in the U.S. alone, while the video has racked up more than 10 million views on YouTube. Having already collaborated with big stars like will.i.am and Chris Brown, Simons is ready to introduce herself to the American pop scene at the perfect time, as electronic dance music continues to take the world by storm. We caught up with Simons to talk about staying true to herself, being on the Identity Tour with LMFAO, and her ideas for the future of her career.
OS: You grew up in a musical family. How did that contribute to your interest in music?
ES: My parents were dope, and they were musicians. I learned a lot from them, I was able to go to concerts, and I had access to any kind of music I wanted to hear. It just fills your brain, like, you're such a sponge when you're young, you know? They worked hard to get to where they wanted to be, and they were very successful. That's what they gave me, that lesson. If you want to be successful, you've got to work hard. You've got to practice your skills. It's a very good education, as a young kid. You start learning more about yourself, and what you lack, and what interests you. It's a very interesting lesson. How that comes back in my music, I don't know, I just try to be very honest with myself. If I can't reach a note, I won't do it. I'm not going to be like, "If that singer can reach that note, I should be able to do it now." I'm good at certain things, which I'm going to do, because that's honesty and that's what I can do live. I just want to be good at what I'm good at.
OS: You've stated that you believe in honesty and integrity when writing your songs, and that people will be able to see through a song that doesn't truly represent you. How do you stay true to yourself? Who are some artists now that you would say are doing that?
ES: It's just the things that I talk about. I wouldn't say certain things if I didn't feel them. Even if you have a party song, still saying how I would be at the party or how I would behave at the party. Make it a little bit classy and civilized! People that are being true to themselves…I think a lot of the DJs right now are being true to themselves. Take someone like Skrillex, or someone like Adele, or Beyoncé. They're very true to their style. When you hear their music, it's like, "Yeah, I know how that is." And that's awesome!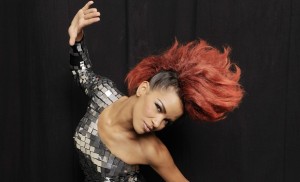 OS: Speaking of being honest, your song "I Don't Like You" has a very blunt title"what's the story behind that track?
ES: I was very pissed off at someone and I took it with me to the studio. If something's bothering me, I can't be pretending I'm happy, I have to get it out of my system, I have to talk about it. My writing partner, Mike, he was like, "Wow, you're so pissed off!" And I was in the booth singing melodies and I was singing all these curse words and stuff. [Laughs] He's like "Alright, let's make a song about it then." But that's what we did, and it was awesome! It was so true. The tone in my voice, I almost started to cry all the time, you can hear it in the verses…but it worked! OS: You just got off the LMFAO tour. What was it like to be out on the road with those guys?
ES: It was so much fun, it was like a carnival. Everyone worked really hard; everyone had to put up the show two hours every day and traveling and doing all the press. But people were just nice to each other, from roadies to technicians to artists, we were all such a big family, and it was nice! I was really sad when that tour ended, because we were all so close.
OS: You've collaborated with an impressive list of artists already, including Chris Brown, Afrojack, and will.i.am. Who would you like to work with in the future?
ES: I just did the Identity Tour and I thought, "I want to work with [dubstep DJ] Doctor P, because I love 'Sweet Shop.'" And we just did, we just made a song for his new EP, which is fantastic!
OS: I checked out a video of you performing acoustic and it was fantastic! Would you ever be interested in doing an acoustic album?
ES: Yes, I would! I've been thinking about it for my album, maybe do two…[one would be] "unplugged" and remixes.
OS: You totally should!
ES: I think people like to have the choice. I'm an artist, I want to do songs. I'd love to put that more in the spotlight. It's a great way of presenting your music, I think.
OS: What are your plans for the rest of the year? When we can expect to hear your full-length?
ES: I just finished up the tour and some cool gigs in the U.K. After that, I'm just going to tour Europe a bit and work on my music. It will come out soon! It's exciting!
Check out the video for "I Don't Like You" below: