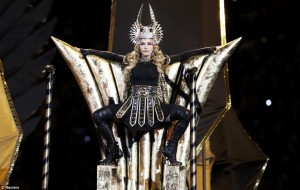 The Super Bowl Halftime Show is generally an overblown spectacle, with historically varying degrees of even the most basic acceptability. Let's do this.
Worst
2000: PHIL COLLINS, CHRISTINA AGUILERA, ENRIQUE IGLESIAS, TONI BRAXTON
I don't remember this and I'm not going to watch it, but it's awful. It's literally the worst thing I've never seen.
2001: NSYNC, AEROSMITH, BRITNEY SPEARS, MARY J. BLIGE
This performance, perhaps the original multi-superstar mashup that spawned so many subsequent such travesties, is not on the nice list. While they get points for actually singing instead of lip syncing, they lose those points by playing all terrible songs, including latter-day Aerosmith singles, "I Don't Wanna Miss A Thing" and "Jaded" (plus whatever songs N'Sync did). Then, right there in front of a billion people, they murdered "Walk This Way" in cold blood. Mary J. Blige and an admittedly rocking Aerosmith could not save it. Rest in peace, good song.
2004: NELLY, DIDDY, KID ROCK, JUSTIN TIMBERLAKE, JANET JACKSON
I cannot believe that people thought a nipple was the most offensive thing about this performance.
2011: BLACK EYED PEAS, USHER, SLASH
Nope. No. No, no, no.
I don't know what kind of bad things you've done in your life, but I promise that none of them merit the punishment of watching this. Please, you have so much to live for. Don't do this. Whatever it is, we can work it out.
2012: MADONNA, LMFAO, NICKI MINAJ, M.I.A., CEE-LO GREEN
I like Madonna. I do. But all I can say about this performance is that this YouTube clip is accidentally labeled Very High Quality. She's not really singing, and even the dancing is bad.
BEST
1999: STEVIE WONDER, KISS
Stevie Wonder is fantastic here, backed by era-demarcation Big Bad Voodoo Daddy, and he even gets up and dances with Savion Glover, which is weird, right? And look, Gloria Estefan took time out of her schedule of deadly boat rampages to sing a few forgettable songs. Kiss, hindered slightly by the fact that they're not actually a very good band, is nonetheless awesome. And cheerleaders in Kiss makeup? Why didn't Up With People think of that?
2002: U2
U2 can be really annoying, but when they are in their element, as they are here, performing their epic, stadium-sized rock in an epic stadium. Bono can't restrain his preening, but why should he? It's always worked for him, right? This performance, at the first Super Bowl after the attacks of September 11, 2001, is just about as good as can be, with the band doing their thing ("Beautiful Day," "MLK," and "Where The Streets Have No Name") so well, as a screen behind them scrolled the names of the 9/11 victims. Then the screen comes down in a palpable moment of catharsis, and Bono whips out the stars and stripes. USA! USA! That's how you debate.
2005: PAUL MCCARTNEY
I'm on the fence here. Macca sounds great, and he's got a really excellent band, but still with the "Hey Jude" and the sing-along; even "Live and Let Die." It's not like the guy only has five or six hits to choose from. He's got the most recognizable catalog of songs in history. But I guess it's the Super Bowl, so I'll allow it. Next time he does "Hey Jude" on SNL, though, that's it, I'm not buying any more copies of the same ten 50-year-old albums again. Take that, Paul's bank account.
Best modified generic Paul-ism: "Thank you, Super Bowl!"
2008: TOM PETTY AND THE HEARTBREAKERS
I have lost friends and been estranged from family as a direct result of my assertion that this is the greatest American rock band ever. They are rock solid here, but three out of the four songs here are from Full Moon Fever, not even a Heartbreakers record. Come on, Tom.
2009: BRUCE SPRINGSTEEN AND THE E STREET BAND
Bruce, football, America, and apple pie. The Boss is a little goofy and shticky here, but he is in his element, playing some monster hits for a thrilled crowd.

Absolute Best? – 2007
PRINCE PRESENTS: PRINCE WINS EVERYTHING
You gotta click here to watch. You think Prince was going to make this easy for you?
Absolute Worst? – 1997
THE BLUES BROTHERS PRESENT: F YOU, AMERICA
More like this: