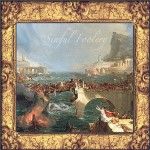 Here at OurStage, we make it a goal to fill each and every day with the best music news we possibly can. Somedays that means writing half a dozen pieces on Rick Ross and others that means we're going to be listening to a lot of dubstep, but today it's a middle ground that we think everyone can enjoy.
While searching the morning's headlines and editorials, a blog from popular urban music site HitEmWhereTheyAint caught our eye. In it, fans of hip hop are informed about up and coming artist Sin, and all the great things he's doing to set himself apart from the competition. It's a must-read for anyone hoping to get a leg up in music, and you can read the post in full below. To view the original (and stream the music mentioned), click here.
Don Dada of the Day: Up & Coming Rapper Sin & His Super Producer Thomas Foolery
To familiarize those of you who have yet to hop on the HitEmWhereTheyAint train, our Don Dada of the Day subsection is specifically dedicated to commemorating the pimp tight aka praise worthy actions, thoughts, efforts, etc. of individuals throughout the globe. So, without further ado, we'd like to happily award today's Bishop Don Magic Juan to up and coming Chicago based rapper, Sin, and his Beantown groomed producer, Thomas Foolery.
To set the record straight, we most certainly aren't about that featuring whack ass, bologna ass wannabee artists who have no fucking idea what rap is, have seen a few videos and/or love Hoodie Allen Life on our site"Please, if your looking for the prototypical scram shit hit up Freshnewtracks. They LOVE showcasing dudes who buy followers and fund their mixtapes via Daddy's big bucks. Over here, we're about Hittin' ˜Em with legitimate unsigned heat that will surely leave a lasting impact on all our consciences. With that in mind, its about time we pay homage to the ingenious flow of Sin and the electronically infused, gutter production of Sir Thomas Foolery before these cats catch some serious exposure.
An amazingly consistent, comically cynical yet raw and austere first project, Sin Foolery hits us with a unique sound uncharacteristic of every day College musicians. Right off the bat, we are immediately introduced to the album's overarching themes of diabolism and fiendishness with A Fool's Prayer (Intro). But as the track's disturbing piano notes ride out, Sin unleashes his Foolery over Thomas' sampling of Quentin Tarantino's classic religious freak Little Nicky cameo (HELL'S FIRE IS BURNING ME ALIVE!), a maniacal brooding Synth, crazy snare, and the trademark WHAT so often heard on Down South bangers. Most notably, Sin gives a N***a, free Max B shout out, demonstrating that my g STAYS riding that Wavy Submarine. A quick transition leads us to my favorite track Gang$ta? showcasing Sin's most impressive lyrical outing and conveying the South East Chicago native's disgust for clowns who act like quintessential TrapStars but will have their shit pushed in when time to War. Bottom line: the kid Sin goes in.
Up next is Velvet, a 2:25 break from Thomas' menacing bass lines that makes for the perfect Stoop Jam (i.e. a jump-off usually played during the summer time in which we post and sip bottles out of brown paper bags to on townhouse stairs). We also get a sneak peak of MC Mic Vittorio who's flow and voice evokes memories of Sir Michael Rocks from The Cool Kids. The EP's party anthem, FSU, is definitely a unique club banger. The track somehow manages to maintain the albums satanic feel while simultaneously allowing the men to bottle pop and the chicken heads to Twerk outrageous. And even though I'm made to feel as if I'm on a serious come down from a concoction of hard drugs, 26 Emotions might be the best combination of production, narration and lyricism the album has to offer.
In summary, Sinful Foolery casts more sin and foolery on our consciences than watching a ratchet couple knock boots at a Waffle House in Georgia. But on a more serious note, the Chicago-Boston connection is doing the DAMN thing and as Thomas and Sin continue to master their craft, look for both cats to generate some legitimate buzz. So remember, you heard them here first. Don't say we never Hit ˜Em with that new-new!