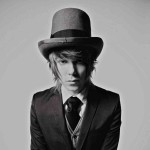 After years of work in Never Shout Never, EATMEWHILEIMHOT!, and a slew of other projects, singer/songwriter Christofer Drew is returning to his roots with his new solo EP, The Light. A new song off the release entitled "Pray For Peace" can be streamed at the end of this post.
Considering Drew's most recent effort with Never Shout Never (2012's Indigo), it's refreshing to know the still-young artist has a continuing interest in a simple sound. That said, "Pray For Peace" is pretty much a slow underhanded pitch in terms of songwriting and it's becoming increasingly difficult to accept such basic lyricism as anything more than amateur.
I sincerely hope The Light offers something remarkable, but I do not think "Pray For Peace" is that song. See if you agree by listening to the track below.