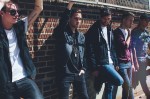 After all this pop and mainstream rock news, it seems we're overdue for something a little bit heavy.
Rise Records' Issues have released their long-awaited video for the single "Princeton Avenue." The clip, which original premiered on Revolver, was shot earlier this year im the midst of the band's near-constant touring schedule. The story that unfolds is one that pairs well with themes of domestic abuse and reflection that runs through the song's lyrics, and the overall cinematography is worth your time by itself.
Issues released their debut, Black Diamonds, back in November 2012. Click here to grab a copy off iTunes.