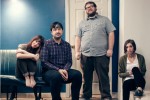 If you're a fan of pop punk and have yet to discover Candy Hearts, the level of awesome your Monday has been operating at is about to increase tenfold.
Everyone needs a new favorite band and for our money there are few more deserving than fast-rising act Candy Hearts. Their female-lead take on growing up and falling in love in the 21st century plays like a breath of fresh air in cluttered musical times, and recently Alter The Press got the group to sit down and perform acoustic for their viewers. The performance footage was released online this afternoon and now you can view an acoustic rendition of their song "Matchbox Cars" by clicking play on the video at the end of this post.
Candy Hearts are currently out on the ATP! sponsored "March Radness" tour with Allison Weiss and Pentimento. All dates and ticket information can be found here.