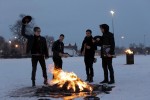 Fall Out Boy took their release week promotional activities to the set of Conan last night for a performance unlike any other.
Though the Chicago four piece has been performing their single "My Songs Know What You Did In The Dark (Light Em Up)" on pretty much every stage that would host them, last night's appearance on Conan was unquestionably different. Keeping with Conan's love for the absurd, the band used their set to pay tribute to the classic This Is Spinal Tap with moments of hilarity scattered through the song. It's hard to count every reference, but a few highlights include Pete Wentz finding himself trapped inside a prop, a Stonehenge monument far too small in size is lowered from the ceiling, and Harry Shearer filling in on bass. Click here to view the performance.
Fall Out Boy's new album, Save Rock And Roll, is available now wherever music is sold.