pubished by
Kosso
on
April 24th 2013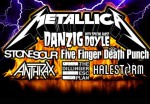 Awards Show season seems to last later and later every year, but I think we can make an exception for a show as heavy as this.
Revolver's Golden Gods awards show is set to take place May 2 in Los Angeles, Ca. The show, which will be aired on AXS TV, will be headlined by this year's recipient of the Ronnie James Dio Lifetime Achievement award, Metallica. Five Finger Death Punch, Stone Sour, Anthrax, the Dillinger Escape Plan and Halestorm are also set to appear, along with a performance from Danzig and former Misfits bandmate Doyle Wolfgang von Frankenstein.
Hosting this year's event will be WWE icon Chris Jericho. It will be his fourth time hosting and he is expected to be joined at times by Rob Zombie and Black Sabbath's Tommy Iommi.
The show will also be broadcast via Xbox Live and Facebook.