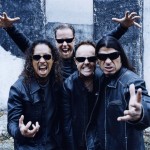 Legendary metal act Metallica have revealed information regarding the release of their upcoming 3D film.
Scheduled for an October 4 release this year, Metallica Through the Never is now headed for an IMAX release a week early. A post on the band's official website reads, "Starting September 27, 2013 our movie will be shown exclusively on EVERY single screen in EVERY single IMAX theatre in North America for a full week. That's over 300 theatres that we'll be unleashing Through The Never to… an IMAX first! There really is no better way than this to experience film and promises to amount to an unprecedented and very unique visit to the movies."
Starring Metallica, a cast of thousands of their fans, and breakout star Dane DeHaan (Chronicle, The Amazing Spider-Man 2), Metallica Through the Never is written and directed by award-winning filmmaker Nimród Antal (Predators, Kontroll) and produced by former IMAX film producer Charlotte Huggins (Journey to the Center of the Earth). The film marries groundbreaking footage and editing techniques with a compelling narrative, in which a band crew member (played by DeHaan) is sent out on a mission during Metallica's roaring live set in front of a sold-out arena. While on this mission, he unexpectedly has his life turned completely upside down.
A trailer should be available soon. Comment and let us know if this is one feature you plan to see this Fall.