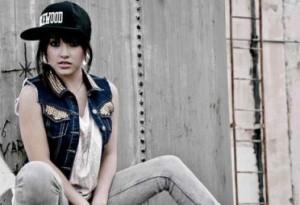 It's impossible to know what the weather is like when you're reading this, but as I type it here on the outskirts of Boston it dawns on me that Summer is approaching faster than I realize. The heat is returning to the daytime, and its intensity is growing by the day. More importantly, people are wearing less clothes, festivals are being announced, and summer jam are being released left and right. Today we have another possible hit to share, but before you go any further you may need to create some space to dance.
Her second single in two months, "Play It Again" may have what it takes to help Becky G become a household name. The tiny-sized lyricist/songbird rides a snare heavy beat from the top of the track with a fury second-to-none. It's likely common hip hop fans will note the similarities between her in-our-face approach and Nicki Minaj's spastic delivery, but make no mistake – Becky G is an original. If Minaj had ridden this beat it would become another egotistical rant about lavish life and well hung men, but instead Becky G offers a fiercely romantic track that is simultaneously abrasive and catchy. Click below to view the video.
Will Becky G be the breakout act of Summer 2013? Comment and let us know your thoughts.