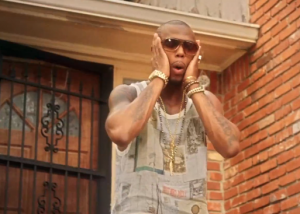 Atlanta-bred rapper B.o.B. has partnered with 2 Chainz to release a video for their latest collaborative effort, "Headband."
Debuting online within the last 24 hours, the official video for "Headband" features one of Bobby Ray's simplest concept to date. Forget about the larger-than-life shots of luxury, travel destinations, and the like. This time, the man who gave us "Nothing On You" performs around what appears to be his house, while 2 Chainz relaxes in a lawn chair surrounded by synchronized sunbathers. It's as odd as it sounds, and thoroughly entertaining. You can view the video below.
B.o.B. is reportedly working on a new album, but no information has been confirmed at this time. Stay tuned for further updates in the weeks ahead.