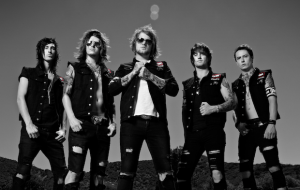 UK metalcore favorites Asking Alexandria have posted a full album preview of the upcoming record, From Death To Destiny.
Scheduled for release August 6 in the US (August 5 overseas), the latest album from Asking Alexandria has been kept under tight wraps since production finished in late spring. Though we're only offered glimpses of the material, it's clear Asking Alexandria are furthering their niche in the modern rock world by emphasizing their embrace of anthemic rock while staying true to their heavier roots. You can stream the preview below.
With no press allowed access prior to the street date, the video that follows may be fans' only preview of From Death To Destiny. Comment below and let us know your thoughts on the band's latest efforts.