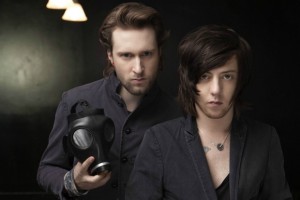 Denver pop duo Breathe Carolina have release a new mixtape entitled, Bangers.
Featuring three new tracks that showcase a slightly evolved sound, Bangers is the first new material to surface from Breathe Carolina in 2013. The mixtape was created in collaboration with SolRepublic, who originally premiered the release, and now can be heard (and downloaded) directly at the band's Soundcloud.
Breathe Carolina have been in the studio for the majority of the year working on their new full length. If Bangers is any indication of where they are headed creatively, but we're certainly excited to hear more.