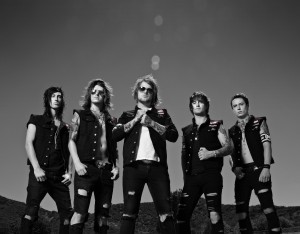 Just a day after releasing a full album preview, UK rock titans Asking Alexandria have released a full stream of a new single entitled "Killing You."
Finding a balance between the breakdown-laden sound of their debut and the more mainstream rock sound of their later efforts, "Killing You" showcases an evolving Asking Alexandria reaching for their next plateau. The guitars press on with the same fervency as when the group began, but the familiar structure of "fast / fast / slow and low / slow and highs / clean hook / breakdown / clean hook over breakdown / repeat" has begun to feel a bit too familiar. You can stream the song below.
If I'm not mistaken, the final seconds of "Killing You" seem to lead in to whatever song will follow. Maybe when paired together the mixed bag of tricks offered in this song will feel genuine, but after a few initial listen it seems like Asking Alexandria may be headed toward the land of musical redundancy. Comment below and let us know your thoughts on their latest material.