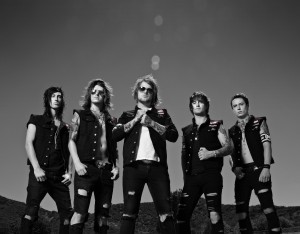 UK metalcore favorites Asking Alexandria have released the official video for their new single, "The Death Of Me."
A band known for pushing the envelope, both musically and visually, Asking Alexandria's latest does not disappoint. Opening with vocalist Danny Worsnop ushering a young boy off the streets and into a seemingly empty building, the clip soon transitions to gorgeously shot performance video with set pieces inspired by the group's upcoming album, From Death To Destiny. You can view the video at the end of this post.
Warning: The content in the video may be considered NSFW. Proceed with caution.
From Death To Destiny hits stores August 6. Comment below and let us know your thoughts on Asking Alexandria's latest.