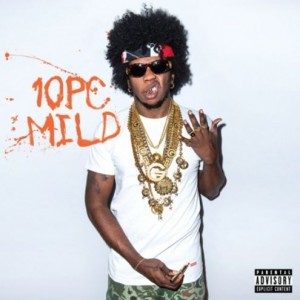 Ladies and gentlemen, the wait is over.
Making good on promises he made at the beginning of the month, Atlanta native Trinidad James has released his highly-anticipated 10 Pc Mild mixtape. The album, which is the first to surface from James in 2013, is the second release ever for the buzzworthy rapper. His debut boasted the singles "All Gold Everything" and "Female$ Wanted," which helped catapult him to the national stage, but for this release James has kept every song under wraps until today. His hope is that fans will experience all ten tracks in sequential order, and having heard the record ourselves we can understand why. James has delivered a cohesive, wild listening experience that works best when played from beginning to end. Head over to LiveMixtapes to stream and download 10 Pc Mild.
Trinidad James wrapped up a nationwide summer tour last night in Ohio. He has yet to reveal fall touring plans, but we're heard rumors that he'll be joining a star-studded lineup for a string of shows in the months ahead. Stay tuned for updates.