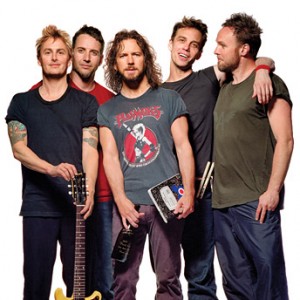 Over two decades into their career, Pearl Jam continue to push out eye-popping visuals, most recently with the release of their official video for "Mind Your Manners."
Opening with some archive footage informing viewers of the importance of good manners, the latest video from Pearl Jam does its best to raise the bar for rock performance videos. The clip is centered around footage of the group, but blended with a wide array of editing tricks, archive footage, framing techniques, and colorful overlays that makes it feel like much more is taking place. It's not exactly reinventing the wheel of the performance based music video, but it certainly goes a long way towards making the concept feel fresh. You can view the video below.
"Mind Your Manners" is the lead single off Lightning Bolt, which is expected to arrive in stores sometime this fall. Comment below and let us know your opinion on the video.